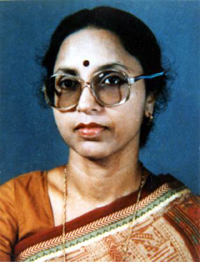 Yasmeen, Nilufar (1948-2003) artiste in classical music, nazrul songs and songs of Atulprasad, Dwijendralal and Rajanikanta. Born on 13 February 1948 Nilufar got the support from her parents in cultivating music from her early childhood. She was the fourth among her five sisters and in fact, all sisters earned reputation as artistes. Farida Yasmeen, the eldest, and Faozia Yasmeen, the second were both noted singers, Nazma Yasmeen, the third performed well as an actress and in recitation of poems and, Sabina Yasmeen, the youngest among the sisters is one of most outstanding singers of the country. Nilufar had an extraordinary skill in several areas of music. Besides classical music, she was remarkably proficient in singing the old style tappa, thungri, kirtan, as well as the modern songs. Nilufar Yasmeen passed Secondary School Certificate and Higher Secondary Certificate Examinations in 1963 and 1965 respectively.
She completed BA (Honours) in Sociology from the University of Dhaka in 1968 and did her masters in the same subject from the same university in 1970. She started taking formal lessons in classical music under Pundit PC Gomes in 1964. Later she studied and was trained under the music gurus of both East and West Bengal such as Prashun Bandyopadhyay, Mira Bandyopadhyay, Ustad Sagiruddin Khan, Ustad Fazlul Haq, and Ustad A. Daud. She took lessons on Nazrul songs under Sheikh Lutfar Rahman and Shudhin Das.
Nilufar was married to noted filmmaker and composer khan ataur rahman (1928-1997). She worked as a television artiste from very early age of her life. In recognition of her performance as a playback singer, she received the Bangladesh Cine Journalists Association Award in 1975, National Film Artiste Award in 1986 and Ekushey Padak (posthumously) in 2004.
The University of Dhaka appointed her as lecturer in the Department of Dramatic Arts and Music in 1995. Nilufar Yasmeen died of cancer on 10 March 2003 and in memory of the late artiste and teacher, her elder sister had established a scholarship for the best performing student of music at the university of Dhaka. [Saim Rana]