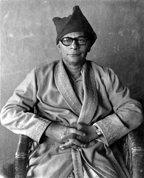 Yusuf, Moniruddin (1919-1987) writer and translator, was born on 13 February 1919 in the zamindar family of Boulai in kishoreganj district. His father was Maulvi Misbah. It is said that his forefathers belonged to a Mughal family. They spoke Urdu at home and so his initial education began under an Urdu teacher. Later he was admitted to the local Middle English school. Thereafter, he studied at Ramananda High School at Kishoreganj and the Zila School at Mymensingh. He passed his Entrance examination from the Zila School (1938) and intermediate from Dhaka Intermediate College (1940). He then got admitted to the Bangla Department of Dhaka University but before his final examination was over he went to Calcutta, and then to Delhi, and ended up working in Bombay.
However, he returned home after nine months and did business for sometime. He then came to Dhaka and joined the Pakistan Observer and later the sangbad as a journalist. Finally, he joined the public relations department of the bangladesh agricultural development corporation, retiring from this organisation in 1979. He used to edit the corporation's journal Krishi Samachar.
Moniruddin wrote 28 books of poems, fiction, plays, essays, biographies, works for young people, translations and autobiography. Some of his well-known books are: (fiction) Jhader Rater Shese, Panser Kanta, Or Bayes Yakhan Egaro; (play) Isha Khan; (essays) Rumi's Masnavi (1966), Urdu Sahityer Itihas (1968), Bangla Sahitye Sufi Prabhab (1969), Amader Aitihya O Sanskriti (1978), Karbala: Ekti Samajik Ghurnabarta, Sanskriti Charcha (1980), Bangladesher Sarbik Agragatir Laksye Ekti Prastab (1984), Naba Mulyayane Rabindranath (1989); (biography) Hazrat Fatema O Hazrat Ayesha; (works for young people) Chhotader Islam Parichay and Mahakavi Ferdousi; (autobiography) Amar Jiban, Amar Abhijvata (1992).
Alongside Bangla he also did research on Urdu and Persian literature. Among his best works are his history of Urdu literature and his translation of Ferdousi's epic Shahnama into Bangla in six volumes (1991). The works he has translated include Iqbaler Kavya Savchayan (1960), Diwan-e-Ghalib (1964), Kalame Raghuib (1966) etc. Quite a few of his manuscripts remain unpublished. Moniruddin Yusuf was also attracted to films. He began directing a film titled Madhurati but was not able to complete it.
Moniruddin was awarded with five prizes in recognition of his contribution to literature. These include the Governor's gold medal, Habib Bank Literary Award, Bangla Academy Literary Award (1978), Abul Mansur Ahmed Literary Award and Ekushey Padak (1993, posthumous). He died in Dhaka on 11 February 1987. [Ayub Hossain]