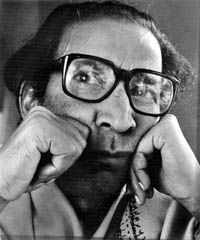 Zakaria, Mohammad (1923-1993) actor and producer, was born in the district of Birbhum, West Bengal. He passed the matriculation examination from Sewri Benimadhab Institution. While studying for the Intermediate examination at Hetampur College he took a government job in the office of the Registrar of Joint Stock Company. Mohammad Zakaria was instinctively attracted to acting. In 1944, he first acted in Navanna, a play written' by bijan bhattacharya and produced by' Indian People's Theatre Association of calcutta.
Subsequently, he became associated with different theatre groups such as Bahurupi, Theatre Centre, Lokanatyam etc and became famous for his acting ability. This was quite unusual in contemporary Muslim society. Among the plays in which he acted with distinction are Ulukhagda (1950), Chhenda Tar (1952), Dashchakra (1952), Dharmaghat (1953), Raktakarabi (1954), Dakghar (1957), Aghatan Ajo Ghate (1961), Ek Peyala Coffee (1962), Psychotherapy, etc.
In 1956, at the invitation of bulbul lalitakala academy (BAFA) Bahurupi came to Dhaka and staged rabindranath tagore's Raktakarabi and tulsi lahiri's Chhenda Tar. 
In 1964, Zakaria came to dhaka from Calcutta and acted in two films directed by zahir raihan Bahana (1965) and Behula (1966) and in Syed Mohammad Parvez's film, Begana (1966).
In 1966, Mohammad Zakaria joined the Dhaka centre of Pakistan Television as a producer. This move helped him to use his talents for the stage, and to produce Radio and Television plays in Dhaka. In Dhaka, he first performed in munier chowdhury's Kabar (1972), a play produced by Theatre. He was one of the founding members of Theatre and also its vice-president. Major stage and TV plays he acted in subsequently include Subachan Nirbasane (1974), Chardike Yuddha (1976), Payer Aoyaj Paoya Yay (1976), Dui Bon (1978), Othello (1981), Macbeth (1983), Akhano Krtadas (1983), Pratibeshi and Idiot. His interpretation of the characters of 'Baba' (father) in Subachan Nirbasane, 'Pirsaheb' in Payer Aoyaj Paoya Yay and 'Mathurda' in Dui Bon earned him the admiration of many.
Zakaria introduced a distinct style of acting in the work he did from the 1940s to the 1980s. He became noted particularly by translating plays and writing creative essays on the theatre. He was felicitated and given enthusiastic receptions and prizes by various institutions for his literary and cultural achievements.
Among the prizes he received are the National Drama Festival Award (New Delhi, 1954), Ekushey Padak of Bangladesh Government (1981), Kazi Mahbubullah Zebunnesa Trust Medal (1983), Bangladesh Shilpakala Academy Prize (1978), Bangladesh Film Journalist Association Prize (1985), Sequence Award of Merit (1980), and Sammilita Sanskritik Jot Padak (1992). He was honoured in the Gunijan Sangbardhana of Dhaka Theatre (1981), a reception organised by Loknatya Dal (1991). In 1999, Theatre introduced the 'Mohammad Zakaria Memorial Medal' in his honour. [Anupam Hayat]