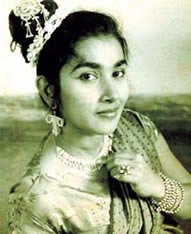 Zaman, Sultana (1935-2012) actress, film producer, was born on 2 September, 1935 in natore district. Her father, Syed Abdur Razzaq was an officer of the zamindar of Natore and Mother was Rahima Khatun. Her family name was Musammat Hosne Ara Sharifa Begum but she is popularly known as Sultana Zaman. She passed her childhood and adolescence in Natore town. Sultana Zaman passed SSC examination from Natore Girl's School, HSC examination' from Rajshahi College and then admitted in BA class. In 1956 she got married to Q M Zaman, the first chief cameraman of Film Development Corporation (FDC) of the then East Pakistan and the cameramen of numerous movie include the first Bangla full-length commercial film Mukh O Mukhosh (Face and Mask, 1956).
Sultana Zaman began her career in 1959 as one of earliest Bangali and Muslim actress through the film Matir Pahar which was produced by SM Parvez and directed by Mahiuddin. Later, she adopted her name as Sultana Zaman through the film Anek Diner Chena (1964) directed by khan  ataur rahman (1928-1997).
Sultana Zaman, one of the influential actress of the 1950s and 1960s, acted in numerous films both in Bangla and Urdu languages such as Sonar Kajal (1962, Jointly directed by kalim sharafi and jahir raihan), Chanda (1962, directed by ehtesham), Zoar Elo (1962, directed by Abdul Jabbar Khan), Satrang (1965, directed by fateh lohani), Zanazani (1965, directed by Ali Mansur), Mala (1965, Mustafiz), Uzala (1966), Abar Banabase (1966), Rupban (1966), Mayurpabkhi (1968), Saptadibga (1968), Natun Diganta (1968), Maner Mato Bau (1969), Trisna (1978).
Alongside her acting in films she produced two films as Bhanumati (1969) and Chhadmabeshi. Besides, she was the presenter of the lyric program 'Chhayachhanda' in commercial service of Radio and acted on several Radio play such as Krtadaser Hasi,Tajmahal, Zafran.
Abu Jafar Ahmed, Assistant Cameraman and film producer of Film and Publication Department of Information Ministry, made a documentary on Sultana Zaman, titled Sultana Zaman-er Jiban O Karma Shirsak Pramanyachitra (Documentary on activities and life sketch of Sultana Zaman). Apart from featuring life and works on Sultana Zaman, the documentary also includes interviews of noted actor-actress as they speak of Sultana. The documentary includes short interviews of Shabnam, Razzak, Hasan Imam, Amzad Hossain and family member of Sultana Zaman.
In recognition of her contribution in film industry Sultana Zaman was honoured with numerous honours, such' as Chitrakash Award, National Film Award (2009), National Award (2011) by the Bangladesh Mahila Parishad. Sultana Zaman died on 20 May 2012 in Dhaka. [Shamima Akhter]