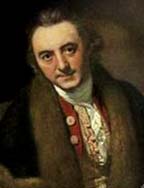 Zoffany, John (1733-1810) an artist of originality and depth. John Zoffany earned great reputation as a painter in Europe, was decorated with honours by many contemporary professional organisations in Vienna, Rome, and London. He came to Calcutta in search of fortune. Though a great artist, Zoffany could never overcome his poverty by his art activities in Europe. European artists in Bengal, who returned home with great fortune, motivated Zoffany to come to Calcutta (1783) to make fortune. Painters were in great demand in India.
The Indian princes, zamindars, merchants were keen to sit before European painters. Besides, the government also needed painters for pictorial record of things, which are now done by photographers.
Zoffany came to Calcutta and lived there until 1790. During the period he drew portraits of many members of nobility and painted scenes of dramas, bazaars, crowd, ball parties, hunting and shooting. Richard Earlom, the celebrated mezzotinto engraver (1743-1822), engraved some of his paintings.
He painted Sir elijah impey, warren hastings and the 'Last Supper' for an altar-piece in St. John's Church in Calcutta. In the history of modern Indian art, Zoffany occupies an important place. Fellow of the Royal Academy, the Society of Artists and the French Academy, Zoffany died in England on 11 November 1810. [Sirajul Islam]