Abhaynagar Upazila (jessore district) area 247.19 sq km, located in between 23°07' and 23°15' north latitudes and in between 89°18' and 89°34' east longitudes. It is bounded by jessore sadar and narail sadar upazilas on the north, khan jahan ali thana, dumuria, dighalia and phultala upazilas on the south, Narail Sadar and kalia upazilas on the east, Jessore Sadar and manirampur upazilas on the west. Although in administrative record this region is named Abhaynagar, locally it is mostly known as Noapara.
Population Total 232162; male 120069, female 112093; Muslim 183086, Hindu 48785, Buddhist 276 and others 15.
Water bodies Main rivers: bhairab, chitra; beel dakatia, Singra beel, Kurakhali beel and Majul canal are notable.
Administration Abhaynagar Thana, now an upazila was formed on 16 March, 1875. Noapara Paurasabha was established on 16 October, 1996.
Upazila
Municipality
Union
Mouza
Village
Population
Density (per sq km)
Literacy rate (%)
Urban
Rural
Urban
Rural
1 (Noapara)
8
89
106
73006
159156
939
60.14
50.50
Municipality
Area (sq km)
Ward
Mahalla
Population
Density (per sq km)
Literacy rate (%)
25.11
9
20
73006
2907
60.14
Union
Name of union and GO code
Area (acre)
Population
Literacy rate (%)
Male
Female
Chalishia 52
7419
8227
7932
49.42
Payra 42
6193
8349
8082
53.40
Prambag 21
8861
10437
9718
50.97
Baghutia 10
5679
10158
9564
50.58
Subha Para 84
8517
11488
10898
49.85
Sreedharpur 73
8515
14117
13690
47.00
Siddhipasha 63
7912
12677
11943
52.66
Sundoli 27
303
6118
5758
51.93
Source Bangladesh Population Census 2001,Bangladesh Bureau of Statistics.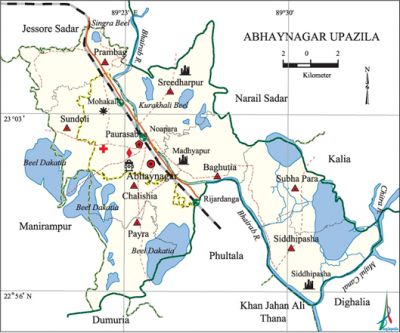 Archaeological heritage and relics Khan Jahan Ali Jami Mosque (Subha Para), Noapara Kali Temple, Siddhipasha Rajbari, tank and temple, 11 Duari Mandir, Madhayapur Neelkuthi, Sreedharpur Zamindar Bari, Khan Jahan Ali Dighi (Basuari), Rupsonatan Dham (Ramsara).
History of the War of Liberation On 27 March 1970 a number of railway staff were shot dead by Pak army in the office room of Noapara Railway Station. Besides, 17 freedom fighters including Nazibor Rahman, Assistant Secretary of bangladesh awami league, were killed by the Pak army during the War of Liberation.
Religious institutions Mosque 227, temple 66, church 2, tomb 3 and sacred place 2.
Literacy rate and educational institutions Average literacy 53.55%; male 59.05%, female 47.69%. Educational institutions: college 10, secondary school 73, primary school 107, community school 3, ngo school 15, madrasa 35. Noted educational institutions: Noapara College (1964), PB Secondary School (1903), Rajghat-Jafarpur Secondary School (1916), Mohishati High School (1918), Noapara-Sankarpasha Secondary School (1918), Noapara Pilot Girls' School (1962), Noapara Madrasa.
Newspapers and Periodicals Monthly: Mukul; Weekly: Mukti, Uddipan. Noapara Jamania Art Press played a remarkable role in the cultivation of art and culture in the region. The first monthly magazine Mukul, edited by Poet Nasiruddin Ahmed, was published from press.
Cultural organizations Library 2, club 22, theatre stage 1, cinema hall 3, literary society 3, theatre group 7, playground 32.
Main sources of income Agriculture 44.38%, non-agircultural labourer 5.76%, industry 2.39%, commerce 15.25%, transport and communication 4.27%, service 18.18%, construction 1.66%, religious service 0.17%, rent and remittance 0.53% and others 7.41%.
Ownership of agricultural land Landowner 58.92%, landless 41.08%; agricultural land owner: urban 41.78% and rural 67.14%.
Main crops Paddy, jute, wheat, potato, garlic, onion, mustard, betel nut, brinjal, vegetables.
Extinct or nearly extinct crops Linseed, sesame, barley, arahar.
Main fruits Mango, jackfruit, banana, litchi, blackberry, papaya, watermelon, coconut.
Fisheries, dairies and poultries This Upazila has a number of fisheries, dairies and poultries.
Communication facilities Roads: pucca road 88.89 km, semi-pucca road 75 km and mud road 402 km; waterways 8 nautical miles; railways 13 km. Noted riverport: Noapara. At present this riverport is used to operate about 40 vessels/ burges for carrying goods daily.
Extinct or nearly extinct traditional transport Palanquin, horse carriage and bullock cart.
Manufactories Jute mill, textile mill, rice mill, paper mill, leather factory, cement factory, salt factory and ice factory. Noted manufactories: Bengal Textile Mill, Raj Textile Mill, JJI Jute Mill, Noapara Jute Mill, Purbachal Jute Industry, SAF Industry, Enayet Paper Industry.
Cottage industries goldsmith, blacksmith, weaving.
Hats, bazars and fairs Hats and bazars are 22, fairs 6. Notable hats and bazars are Noapara, Chengutia, Magura, Vatpara, Gabindopur, Sundoli, Mohishati, Harishpur, Siddhipasha, Arpara, Payra, Ramsara, Nauli, Bhangagate, Chaki, Amtola, Prembagh and Dhopadi Natun Bazar.
Main exports Coconut, banana, jute, date molasses, watermelon and betel nut.
Access to electricity All the wards and unions of the upazila are under electrification network; however, 46.39% dwelling households have access to electricity.
Sources of drinking water Tube-well 92.93%, pond 0.59%, tap 0.93% and others 5.54%.
Sanitation 40.27% (urban 58.91% and rural 31.32%) of dwelling households of the upazila use sanitary latrines and 46.90% (urban 33.67% and rural 53.25%) of dwelling houses use non-sanitary latrines; 12.83% of households do not have latrine facilities.
Health centres Upazila health complex 1, union health and family planning centre 8, satellite clinic 4.
NGO activities Operationally important NGOs are brac, CARE, RRC, Gonosaharjo Sangstha, Palli Unnayan, Ashar Alo Sangstha. [Md. Saifur Rahman]
References Bangladesh Population Census 2001, Bangladesh Bureau of Statistics; Cultural survey report of Abhaynagar Upazila 2007.