Dumuria Upazila (khulna district) area 454.23 sq km, located in between 22°39' and 22°56' north latitudes and in between 89°15' and 89°32' east longitudes. It is bounded by manirampur, abhaynagar and phultala upazilas on the north, batiaghata and paikgachha upazilas on the south, khan jahan ali, khalishpur and sonadanga thanas and Batiaghata upazila on the east, tala and keshabpur upazilas on the west.
Population Total 305675; male 153111, female 152564; Muslim 188619, Hindu 116451, Buddhist 9, Christian 339 and others 257.
Water bodies Main rivers: Shibsa and Singrail; beel dakatia is notable.
Administration Dumuria Thana was formed on 25 March, 1918 and it was turned into an upazila in 1983.
Upazila
Municipality
Union
Mouza
Village
Population
Density (per sq km)
Literacy rate (%)
Urban
Rural
Urban
Rural
-
14
205
241
19828
285847
673
53.8
52.5
Upazila Town

Area
(sq km)

Mouza

Population

Density
(per sq km)

Literacy rate
(%)

6.92
4
19828
2865
53.8
Union
Name of union and GO code
Area (acre)
Population
Literacy rate (%)
Male
Female
Atlia 06
9220
16469
15767
55.3
Kharnia 40
5160
10314
10271
52.7
Gutudia 33
14120
13324
12819
51.3
Dumuria 27
4624
14728
14514
54.7
Dhamalia 20
5753
10993
11247
47.0
Bhandar Para 13
8726
8397
8352
51.4
Magurkhali 47
9911
6880
7011
58.6
Maguraghona 54
4891
11622
11493
45.9
Rangpur 67
8960
9104
8949
58.4
Raghunathpur 61
8764
12791
13026
58.2
Rudaghara 74
7100
11490
11658
52.7
Sarappur 88
5615
7936
8165
49.6
Sobhana 94
10972
9783
9925
52.7
Sahas 81
6172
9280
9367
46.1
Source Bangladesh Population Census 2011, Bangladesh Bureau of Statistics.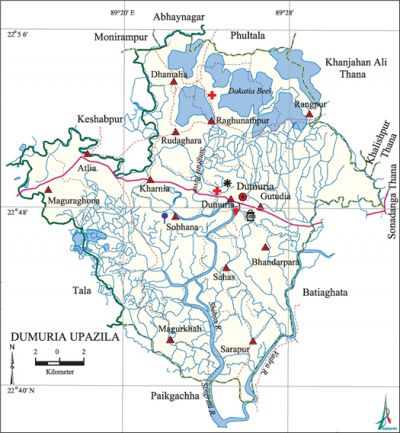 Archaeological heritage and relics Chechuri Neel Kuthi, Chuknagar Neel Kuthi, Dakbangalow at Madhugram.
Historical events tebhaga movement was organised in 1948 at villages Shovana, Dhanibunia, Kanaidanga, Orabunia and Bakultala.
War of Liberation During the war of liberation, the Pakistan army raided the village Kalitalapara in April 1971 and many Bangalis, including Profullo Kumar Biswas, Indubhushan, Lalchand, Amullya, Mahendra, Raicharan, Nihar and Ratan were killed. Fourteen members of the allied forces were killed in a direct encounter between the Pak army and the freedom fighters and allied forces at Shalua Bazaar. In the initial months of the War of Liberation, Chuknagar formed a transit point for Bangali refugees fleeing to India in the face of atrocities by the Pakistan army. On 20 May 1971, Pakistani soldiers killed thousands of refugees gathered at the village. The day is mourned every year as the Chuknagar Mass Killing Day. Freedom fighters had encounters with Pak army at many places of Dumuria and two prominent encounters were that at Shalua Bazar and Gabtala of Shovana.
For details: See ডুমুরিয়া উপজেলা, বাংলাদেশ মুক্তিযুদ্ধ জ্ঞানকোষ (Encyclopedia of Bangladesh War of Liberation Bangla Version), বাংলাদেশ এশিয়াটিক সোসাইটি, ঢাকা ২০২০, খণ্ড ৪।
Religious institutions Mosque 237, temple 132, church 4. Noted religious institutions: Arashnagar Mosque, Dumuria Kali Mandir, Delbhita Durga Mandir, Taltala Math, Prahlad Ashrama.
Literacy rate and educational institutions Average literacy 52.6%; male 57.4%, female 47.7%. Educational institutions: college 8, secondary school 50, primary school 199, madrasa 28. Noted educational institutions: Shahpur Madhugram College (1969), Anukul Chandra Sanskrit College (1976), Dumuria College (1983), Raghunathpur Secondary School (1880), Madhugram Senior Madrasa (1928).
Newspapers and periodicals Purushottamduti, Padatik, Sabuj Patra (1965), Sangbartak (1971), Shatabdir Dak (1972),
Main sources of income Agriculture 65.43%, non-agricultural labourer 3.08%, commerce 14.05%, transport and communication 5.51%, service 5.54%, construction 0.88%, religious service 0.16%, rent and remittance 0.10% and others 5.25%.
Ownership of agricultural land Landowner 69.36%, landless 30.64%. Agricultural landowner: urban 42.14% and rural 71%.'
Main crops Paddy, jute, vegetables.
Extinct or nearly extinct crops Sesame.
Main fruits Mango, jackfruit, coconut, betel nut.
Fisheries, dairies, poultries Hatchery 5, fishery 15100, poultry 255, dairy 89.
Communication facilities Roads: pucca 129 km, semi-pucca 207 km, mud road 731 km.
Extinct or nearly extinct traditional transport Palanquin, horse carriage, bullock cart.
Noted manufactories Rice mill, flour mill, oil mill, pulse mill, ice factory, bidi factory.
Cottage industries Goldsmith, weaving, potteries, blacksmith, bamboo work, wood work.
Hats, bazars and fairs Dumuria, Shahpur, Chuknagar, Kharnia, Atharomile and Madartala Hats;' Baishakhi, Chaitra Samkranti' and Balaisadur Melas are notable.
Main exports Paddy, rice, betel nut, molasses, prawn, mango, jackfruit, vegetables.
Access to electricity All the unions of the upazila are under rural electrification net-work. However 69.8% of the dwelling households have access to electricity.
Sources of drinking water Tube-well 99.9% and tap 0.1%.
Sanitation 81.8% of dwelling households of the upazila use sanitary latrines and 13.6% of dwelling households use non-sanitary latrines; 4.6% of households do not have latrine facilities.
Health centres Upazila health complex, hospital, clinic, health and family welfare centre.
NGO activities Operationally important NGOs are brac, Prodipan, asa, proshika, NIJERA KARI, caritas, CSS, CARE, Progoti. [Sandipak Mallik]
References Bangladesh Population Census 2001 and 2011, Bangladesh Bureau of Statistics; Cultural survey report of Dumuria Upazila 2007.