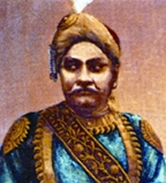 Ahsanullah, Khwaja (1846-1901) nawab of Dhaka, philanthropist and social worker. Khwaja Ahsanullah was born on 22 August 1846 in Dhaka. Son of Nawab khwaja abdul ghani and Ismatun Nesa (d 1887) Ahsanullah learnt Urdu, Arabic and the Quran at childhood. He also gained proficiency in Persian and English. A gifted man, Ahsanullah was very modest by nature. At the age of 22 he was entrusted with the management of the family estate. He further enlarged the dhaka nawab estate by purchasing the Gobindapur paragana of Dhaka. In 1872 ahsan manzil, the reconstructed palace of the nawabs of Dhaka, was named after him. Since 1864 he had served as a commissioner of Dhaka Municipality. He played a major role in founding and developing the graveyards of the Dhaka municipal area. For sometime he was also an Honorary Magistrate.
Khwaja Ahsanullah was keenly interested in literary pursuits. He maintained those writers and poets who were indigent. He was a member of the asiatic society, Calcutta. He established a branch of the mohammedan literary society in Dhaka. He used to compose poems in Urdu and Persian in his leisure time. In poetry, he used the pseudonym Shaheen (the hawk). He published a book of verses in Urdu and Persian, Kulliyat-i-Shaheen. Under his direction, an Urdu periodical, Ahsanut Qasas, was published from Dhaka in 1884. For many years from 1864 he served as a Commissioner of Dhaka Municipality. 
Khwaja Ahsanullah was a voracious reader and maintained a regular diary. His Tarikh-i-Khandan-i-Kashmiriah is preserved in manuscript form in the Dhaka University Library. Ahsanullah was a singer, a composer of songs and a dramatist. He composed some thungri songs. Some of his Urdu plays were staged. He was also an amateur photographer and a member of Photographic Society in Calcutta. He also took interest in politics and was a member of central national muhamedan association. Ahsanullah made almost regularly donations to various charitable and educational institutions.
His donations included (i) Rs 50 thousand for the construction of Lady Dufferin Women's Hospital at Dhaka (1888); (ii) an annuity of Rs 5 thousand to Abdul Ghani Relief Fund (1896); (iii) Rs 40 thousand to the Famine Relief Fund for the people of Barisal, Mymensingh and Dhaka (1896); (iv) Rs one lac for the reconstruction of husaini dalan (1897); (v) Rs one lac to Dhaka Plague Control Fund; (vi) Rs 80 thousand for the development of Comilla town (1898); (vii) Rs 50 thousand to the Governor General's Famine Fund; (viii) Rs 60 thousand for the re-excavation of Nahr-i-Zubaida at Makka and (ix) about Rs one lac for mitford hospital.
In addition, his grant for developing the Survey School at Dhaka into an Engineering School amounting to Rs one lac 12 thousand was released by his son Nawab khwaja salimullah in 1902. Almost every year he used to bear the Haj expenses of 30 to 40 Hajies. He founded the Patuakhali Begum Hospital (1900), Madaripur Mosque and Madrasah (1886-87), and Begunbari Mosque.
He also spent a good deal of money for the renovation and reconstruction of satgumbad mosque, Khwaja Ambar's Mosque, Mosque of Shah Jalal Dakhini, lalbagh shahi mosque, Kaltabazar Mosque, Begum Bazar Mosque, Fatulla Mosque, CHISHTI BEHESHTI'S TOMB, Mausoleum of Peer Yameni, Tomb of Shah Niamatullah, Mausoleum of Shah Masud and Pir Jangi, Magbazar Khanqah, Babupura Mausoleum, Bibi Ka Rauza, Mosque and Tomb of Shah Ali Baghdadi, kadam rasul Shrine etc.
Ahsanullah contributed Rupees 4.5 lac towards the cost of setting up the Dhaka Electric Supply, which was commissioned on 7 December 1901. He was one of the pioneers of the Dhaka Mohammedan Union Sporting Club, established in 1899.
For his social services and philanthropic activities Khwaja Ahsanullah was awarded the titles of Khan Bahadur in 1871, Nawab in 1875, CIE in 1891, Nawab Bahadur in l892 and KCIE in 1897. He was a member of the Governor General's Legislative Council in 1890 and 1899. A road in the Kumartuli area of dhaka has been named in his memory. He died in Dhaka on 16 December 1901 and was buried in the family graveyard at Begumbazar. [Mohammad Alamgir]