Alfadanga Upazila (faridpur district) area 136 sq km, located in between 23°13' and 23°21' north latitudes and in between 89°36' and 89°41' east longitudes. It is bounded by boalmari upazila on the north, lohagara (narail) upazila on the south and west, kashiani (gopalganj) upazila on the east.
Population Total 100598; male 49665, female 50933; Muslim 92863, Hindu 7726 and others 9.
Water bodies madhumati and Babashia are the main rivers and Naidear Chand beel is notable.
Administration Alfadanga Thana was formed in 1960 and it was turned into an upazila in 1984.
Upazila
Municipality
Union
Mouza
Village
Population
Density (per sq km)
Literacy rate (%)
Urban
Rural
Urban
Rural

-

6

92

121

5429

95169

740

55.6

42.3
Upazila Town

Area
(sq km)

Mouza

Population

Density
(per sq km)

Literacy rate (%)

4.39

2

5429

1237

55.6
Union
Name of union and GO code
Area (acre)
Population
Literacy rate (%)
Male
Female

Alfadanga 10

4349

6862

7031

45.05

Gopalpur 42

4841

7587

8150

52.95

Tagarbanda 84

7713

8820

9230

47.68

Panchuria 52

5179

7604

7451

35.76

Bana 21

5375

8040

8218

38.51

Buraich 31

6151

10752

10853

38.79
Source Bangladesh Population Census 2001, Bangladesh Bureau of Statistics.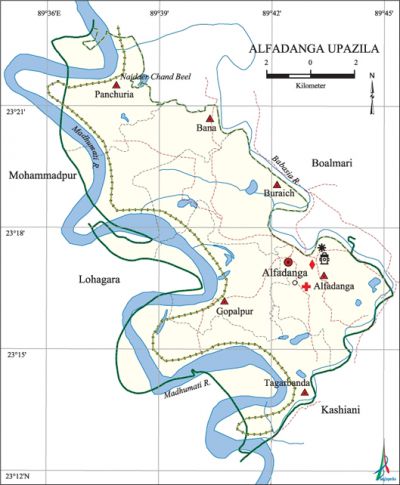 History of the War of Liberation During the War of Liberation in 1971 the Pak soldiers in collaboration with the rajakars tortured and killed a number of people in this upazila; they also plundered and set on fire many houses. On 6 September the freedom fighters attacked the Lahutia Nakshal Camp held by the Pak army and killed Nakshal leader Badsha Jamadar. On 5 November the freedom fighters attacked Pak army camp at Bhatiapara Wireless Office; this time 13 freedom fighters were killed and 10 were wounded by the firing of the 'Pak army from the plane. On 11 November the freedom fighters with the help of the allied forces, tried to capture the Bhatiapara camp. On the night of 18 December Lt. Col Kakol was seriously wounded in a frontal encounter between the allied forces and the Pak army. Alfadanga was liberated on 18 December 1971.
Religious institutions Mosque 160, temple 20. The mazar of Bedan Shah (R) is notable.
Literacy rate and educational institutions Average literacy 43.00%; Male 45.40%, female 40.8%. Educational institutions: college 2, secondary school 12, primary school 55, madrasa 10.
Newspaper and periodicals Alfadanga Darpan and Kalakantha.
Cultural organizations Club 30, cinema hall 1, women's organisation 17, officers' club 1, playground 18.
Main sources of income Agriculture 56.15%, non-agriculture labourer 2.17%, commerce 11.01%, transport and 3.85%, service 16.31%, industry 0.92%, construction 1.87%, religious service 0.31%, rent and remittance 1.41% and others 5.99%.
Ownership of agricultural land Landowner 60.95%, landless 39.05%; agricultural landowner: urban' 39.10%, rural 62.24%.
Main crops Paddy, jute, ground nut, wheat, potato, kalai, onion, garlic, sugarcane.
Extinct or nearly extinct crops China, kaun, arohar, barley, indigo.
Main fruits Mango, black-berry, jackfruit, guava, jamrul, plum.
Fisheries, dairies and poultries Fishery 30, dairy 40, poultry 8, others 250.
Communication facilities Pucca road 75 km, semi-pucca road 25 km, mud road 280 km; waterways 81 nautical miles.
Extinct or nearly extinct traditional transport Boat, palanquin, horse carriage, bullock cart.
Cottage industries Goldsmith, blacksmith, potteries, bamboo work, cane work, welding etc.
Hats, bazars and fairs Total hats and bazars are 13, most noted hats are Gopalpur, Alfadanga and Shirgram hats.
Main exports Onion, garlic, date molasses, palm molasses, potato, groundnut, jute.
Access to electricity All the unions of this upazila are under electrification net-work. However 17.70% (rural 60.27% and urban 15.20%) of the dwelling households only have access to electricity.
Sources of drinking water Tube-well 96.17%,%, tap 0.28%, 'pond 0.44% and others 3.10%.
Sanitation 42.74% of dwelling households (rural 81.44% and urban 40.35%) of the upazila use sanitary latrines and 50.67% of dwelling houses (urban 14.14% and rural 52.82%) use non-sanitary latrines; 6.59% (rural 4.41% and urban 6.72%) of households do not have sanitation facilities.
Heath centres Upazila health complex 1, union health and family welfare centre 3, satellite clinic 4, temporary health centre 2,' brac health centre 1, clinic 3.
NGO activities brac. [AU Haider Chowdhury]
References  Bangladesh Population Census 2001, Bangladesh Bureau of Statistics; Cultural survey report of Alfadanga Upazila 2007.