Faridpur District (dhaka division) area 2052.86 sq km, located in between 23°17' and 23°40' north latitudes and in between 89°29' and 90°11' east longitudes. It is bounded by rajbari and manikganj districts on the north, gopalganj district on the south, dhaka, munshiganj and madaripur districts on the east, narail and magura districts on the west.
Population Total 1912969; male 942245, female 970724; Muslim 1731133, Hindu 180366, Buddhist 51, Christian 930 and others 489.
Water bodies Main rivers: padma, Old Kumar, arial khan, Gorai; Dhol Samudra, Ramkeli, Ghoradar, and Shakuner beel are notable.
Administration Faridpur District was formed in 1815 and Faridpur Municipality was established in 1869. Of the eight upazilas of the district faridpur sadar is the largest upazila (407.02 sq km) and alfadanga is the smallest upazila (136 sq km).
District
Area (sq km)
Upazila
Municipality
Union
Mouza
Village
Population
Density (per sq km)
Literacy rate (%)
Urban
Rural
2052.86
9
4
79
1022
1899
271100
16,41,869
932
49.0
Other information of district

Name of upazila

Area
(sq km)

Municipality

Union

Mouza

Village

Population

Density
(per sq km)

Literacy rate (%)

Alfadanga
127.87
-
6
86
122
108302
847
54.8
Char Bhadrasan
154.65
-
4
25
80
63477
410
40.5
Nagarkanda
192.20
1
9
124
169
197898
1030
46.8
Faridpur Sadar
412.86
1
11
157
342
469410
1137
55.8
Boalmari
271.73
1
11
171
251
256658
945
47.3
Bhanga
215.30
1
12
131
206
259032
1203
47.0
Madhukhali
230.73
-
9
130
242
204492
886
52.5
Sadarpur
261.29
-
9
93
328
186254
713
43.2
Saltha
186.20
-
8
105
159
167446
899
38.6
Source Bangladesh Population Census 2011, Bangladesh Bureau of Statistics.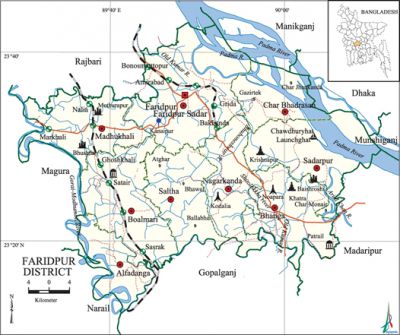 War of Liberation The Pak army killed 8 Brahmacharis of the Jagabandhu Ashram at Shree Angan and set the Ashram on fire. The freedom fighters attacked the police outpost at Nagarkandha on 22 April and captured huge amount of arms and ammunitions. On 30 April they conducted genocide in Bhanga upazila and killed 17 innocent persons at Jandi of Tujarpur Union. On the same day the Pak army killed a number of people including 21 women at village Jashohardi of Nagarkandha upazila; they also conducted plundering and set many houses on fire. On 2 May the Pak army brutally killed 34 persons at Sarkar Bari of Ishan Gopalpur under Faridpur Sadar. On 4 May about 40 freedom fighters again attacked Nagarkandha Police Station and captured huge amount of arms and ammunitions; they also killed the Inspector of the Police Station who was a collaborator. An encounter between the freedom fighters and the Pak army was held at Chandhat of Char Jashohardi union under Nagarkandha upazila on 21 May in which 30 Pak soldiers and razakars were killed. On 30 May the Pak army set houses of five villages on fire from Kodalia to Bhagat and killed 18 innocent persons. On 31 May they fired from helicopter and set 9 villages on fire in Nagarkandha upazila. In October 1971 an encounter between the freedom fighters and the Pak army was held at a place near Chandana Barasia river of Madhukhali upazila in which one Pak soldier was killed. In retaliation, a number of Pak soldiers of Madhukhali Camp arrived at this spot to resist the freedom fighters, but could not find the freedom fighters. However, they set many nearby houses on fire. On 5 November the freedom fighters of Alfadanga upazila attacked the Pak army camp at Bhatiapara Wireless Station. During this time the Pak army fired from helicopter on the freedom fighters in which 13 freedom fighters were killed and 10 were wounded. A battle between the freedom fighters and the Pak army was held on 9 December at Karimpur Bridge of Kanaipur under Faridpur Sadar upazila in which 60 Pak soldiers were killed and so were 11 freedom fighters. One freedom fighter was killed in an encounter with the Pak army and the Biharis at Momin Khan Hat of this upazila on 14 December. A frontal battle between the allied forces and the Pak army was held on 18 December in Alfadanga upazila in which Lt. Col. Kamal of the allied forces was seriously wounded. In an encounter between the freedom fighters and the Pak army held at Talma Bazar of Nagarkandha upazila 8 razakars were killed. In another encounter at Nagarkandha one freedom fighter was killed and so were a number of razakars and Pak soldiers. In an encounter between the freedom fighters and the Pak army in Dhopadanga and Chandpur areas of Nagarkandha upazila 49 Pak soldiers including Pak Major Mofiz were killed and so were 11 freedom fighters. Four mass graves and a mass killing site have been discovered in the district; four memorial monuments and a memorial sculpture have been built.
Literacy rate and educational institutions Average literacy 49.0%; male 50.3%, female 47.7%. Noted educational institutions: Faridpur Medical College (1985), Govt. Rajendra College (1918), Govt. Sarda Sundori Mahila College, Faridpur Zila School (1840), Hitoishi High School (1889), Bhanga Pilot High School (1889), Boalmari George Academy (1911), Baishrashi Shib Sundar Academy (1914), Faridpur Govt. Girls' High School (1918), Kalamridha Govinda High School, Karakdi Rambihari Multilateral High School (1901), Krishnapur High School (1910), Bakiganj Islamia Madrasa (1922).
Main sources of income Agriculture 58.60%, non-agricultural labourer 2.88%, industry 1.07%, commerce 14.09%, transport and communication 4.58%, service 8.87%, construction 1.91%, religious service 0.19%, rent and remittance 1.50% and others 6.31%.
Newspapers and periodicals Daily: Jagaran, Ganaman (1370 BS), Chashi Barta, Idaning, Thikana, Bhorer Runner, Faridpur (1997), Kumar (2006); Weekly: Kalbhabna (2004), Pragotir Din (1995), Boalmari Sangbad, Al Helal, Bhanga Khabar; Fortnightly: Nazir Bangla Defunct: Faridpur Darpan (1861), Chitrakar (1283 BS), Kohinoor (1896), Sanjay (1900),' Aryakayastha (1318 BS), Faridpur Hitoishi (1329 BS), Faridpur Angina (1329 BS), Barta (1926), Muazzen (1335 BS), The Servant of Humanity (1960), Siraj (1932), Langal (1932), Sheba (1350 BS), Khedmat (1373 BS), Jubashakti (1972), Weekly Bangladesh (1972), Satyajug (1975), Faridpur Barta (1979), Aakal (1979), Samachar (1980), Half- weekly Bangla Sangbad (1982).
Folk Culture Once Faridpur was rich in various kinds of folk songs such as Baul, Marami, Bichar, Murshidi-Marfati, Fakirali, Gazirgan, Kabigan, Jarigan, etc; however these are now extinct or nearly extinct. But various festivities are performed in the district on the occasions of new year's day, Eid, Nabanna, Pous Utshab, Rathjatra, Dol Purnima Utshab, Durga Puja, etc. Besides, many kinds of folk festivals are also held on the occasion of Annaprashana, Muharram, marriage ceremony, Jamai Shasthi, Bhadra Mangal Chandi. Folk games of the district include Dariabandha, boat race, Ha-du-du, cock fight, etc.
Tourist spots Pathrail Shahi Mosque and Dighi (Bhanga upazila), Mathurapur Deoul, Picnic Corner, house of Palli Kabi Jasimuddin, Jagabandhuaundor Ashram, house of Shah Saheb, Kanaipur Sikder Bari and campus of Faridpur River Research Institute (Faridpur Sadar), Chaudarashi Zamindar Bari Sadarpur upazila. [Masud Reza]
See also The upazilas under this district.
References Bangladesh Population Cencus 2001 and 2011, Bangladesh Bureau of Statistics; Cultural survey report of Faridpur District 2007; ultural survey report of Upazilas of Faridpur District 2007.