Ananda Vihara situated in the archaeologically rich Kotbari area near Comilla, is the largest of the mainamati monuments. It also has the largest water tank in the area. This Vihara complex was built by Anandadeva, the third ruler of the Early deva dynasty, at the end of the 7th or the beginning of 8th century AD. The contractors and brick hunters damaged this great establishment beyond recognition in 1944-45; the builders of the Cantonment did more damage to it in subsequent years.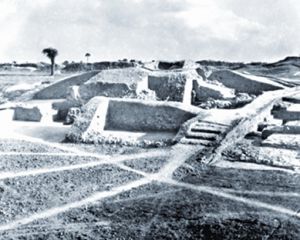 The excavations carried out here are incomplete. The work done so far has revealed the outlines of a large shalvan vihara type monastery, 198m square in size. The Vihara has similar rows of monastic cells arranged in four wings around a large cruciform shrine that stands majestically in the centre of a wide open courtyard.
Its imposing single entrance in the middle of the north side is set in a broad and massive front facade projected outwards. It is larger and more elaborate than that of Shalvan Vihara. The massive outer wall is also more pleasing due to the offset decorations and mouldings. The inner verandah wall is also decorated with mouldings and ornamental bricks. A few cells in the northern wing and a section of the southern part of the central shrine have been cleared. They show clear evidence of intensive occupation of the site for a long time.
Much work remains to be done yet. But the excavations did not continue beyond the initial stage. Its large size, earlier discoveries of a copperplate inscription, a hoard of 63 silver coins, many bronze images, terracotta sculptured plaques and pottery kilns outside the monastery indicate the potential importance of the site. [M Harunur Rashid]