Ayyub, Abu Sayeed (1906-1982) liberal, non-Bangali intellectual and philosopher who wrote in Bangla, was born his grand father house, Welesley Street, in Kolkata, son of Abul Mukarem Abbas, a clerk in the Viceroy's secretariat and his mother Amina Khatun. His elder brother, Dr Abdul Gani, was a politician and former Indian railway minister. Abu Sayeed married Gouri Datta, daughter of Dhirendra Mohan Datta. After his marriage he published some of his essays in the name of Abu Sayeed Ayyub Datta.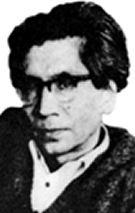 Ayyub lived briefly as a child in Sylhet, but most of his schooling was in Kolkata, first at St Anthony's School, from where he passed the Entrance examination, and then at St Xavier College, from where he completed his ISc. After obtaining his Honours degree with distinction in Physics from Presidency College, he became interested in Einstein's Theory of Relativity. He studied Eddington's Mathematical Theory of Relativity under Professor prashanta chandra mahalanabish, but the ill health he had suffered from since his teens prevented him from sitting for the MSc examination. He was then admitted to the Department of Philosophy from where he graduated with a first class. He was awarded a research fellowship to work on of Error in Perception and Thought', under Professors Radhakarishnan and Krishnachandra Bhattacharya. 
Ayyub taught for some time at Presidency College and Krishnanagar College as well as at Calcutta University and Visva-Bharati. In the thirties he began writing in Parichay and Chaturanga. In 1942 Ayyub was a member of the presidium at the first state conference organised by the anti-fascist writers and artists of Kolkata. In 1954-56 he was made a Fellow of the Rockefeller Foundation. In 1961 he became the first head of the newly opened Department of Indian Studies at the University of Melbourne. From 1969-71 he was a Fellow at the Institute of Advanced Studies at Simla. His support for the Bangladesh Liberation War in 1971 and his assistance to the Bangali intellectuals during this time deserves special mention.
Though Ayyub learned Bangla late in life, he soon became proficient in it. His first Bangla essay, 'Vuddhivibhrat O Aparoksanubhuti', was published in Parichay in 1934, immediately attracting the attention of rabindranath tagore, pramatha chowdhury and atul chandra gupta. Sudhindranath Dutta, Editor of Parichay, asked Ayyub to write another essay on Sundar O Bastab (1934), inculcating in him an interest in Tagore's writings.
Although Abu Sayeed Ayyub was not a prolific writer, but what he did write is both original and of exceptionally high quality, placing him among the finest writers of modern Bangla prose. His book, Adhunikata O Rabindranath (1968), created a sensation in the literary world of Kolkata. His series of lectures at Jadavpur University on Poetry and Truth in 1970 reflected his deep knowledge of philosophy and his skills of poetic analysis. Panthjaner Sakha (1973) is a full-fledged analysis of Tagore poems and complements his earlier book on Tagore. He wrote two other books on Tagore: One Hundred and One Poems by Rabindranath Tagore (1966) and Tagore's Quest (1980). Pather xhes Kothay and Purbaprakashita Kayekti Pravandha: 1934-65 (1977) reveal the range of Ayyub's literary thoughts.
Ayyub was interested in Urdu literature and translated Asadullah Khan Ghalib's Urdu ghazals into Bangla in Ghaliber Ghazal Theke (1976). He also translated some poems of another Urdu poet, Mir Taqi Mir, in Mirer Ghazal Theke. Two of his other books are Varieties of Experience (1980) and Byaktigata O Nairvyaktik. Ayyub also edited a number of books, among them, Adhunik Bangla Kavita (in association with Hirendranath Mukhopadhyay, 1947), Panchish Bachharer Premer Kavita (1963) and 10 Years of Quest (in association with Amlan Dutta, 1966).
Abu Sayeed Ayyub was lauded for his scholarship and his contribution to literature, receiving the Rabindra Prize in 1969, Sahitya Akademi Award in 1970 and Visva-Bharati's Deshikottam Award in 1971. In 1980 the Tagore Research Institute honoured him with the title of Rabindra Tattvanidhi. Ayyub died in Kolkata on 21 December 1982. [Mahmud Shah Qureshi]