Badalgachhi Upazila (naogaon district) area 213.98 sq km, located in between 24°53' and 25°03' north latitudes and in between 88°51' and 89°01' east longitudes. It is bounded by dhamoirhat and joypurhat sadar upazilas on the north, naogaon sadar upazila on the south, akkelpur upazila on the east, mahadebpur and patnitala upazilas on the west.
Population Total 186058; male 96040, female 90018; Muslim 160866, Hindu 16302, Buddhist 339, Christian 31 and others 8520.
Water bodies Main river: Little Jamuna.
Administration Badalgachhi Thana was formed in 1807 and it was turned into an upazila in 1983.
Upazila
Municipality
Union
Mouza
Village
Population
Density (per sq km)
Literacy rate (%)
Urban
Rural
Urban
Rural

-

8

247

237

6513

179545

870

55.1

44.8
Upazila Town

Area (sq km)

Mouza

Population

Density
(per sq km)

Literacy rate (%)

4.49

6

6513

1451

55.13
Union
Name of union and GO code
Area (acre)
Population
Literacy rate (%)
Male
Female

Adhaipur 10

6847

12230

11386

43.35

Kola 63

5269

11519

10664

48.64

Paharpur 52

5668

13225

12528

43.02

Badalgachhi 21

9360

13628

12767

48.64

Balubhara 31

5602

9402

8777

43.37

Bilasbari 42

7889

12588

12093

43.40

Mathurapur 73

6769

11119

10335

41.65

Mithapur 84

5340

12329

11468

48.69
Source Bangladesh Population Census 2001,Bangladesh Bureau of Statistics.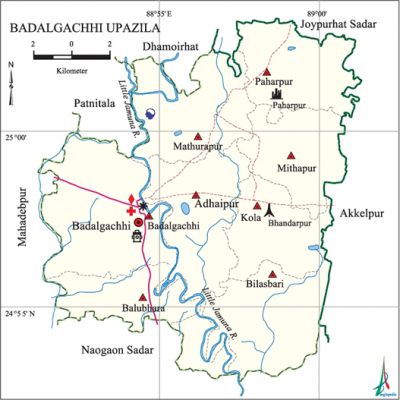 'Archaeological heritage and relics Buddhist Vihara at Paharpur, Tara Temple, Halud Vihara, Pukurer Dhibi (mount) at village Sataiyr, building of Sarpukur and Satyapirer Bhita.
History of the War of Liberation Badalgachhi upazila area was under sector 7 during the war of liberation in 1971. During this time the Pak army killed many people and set on fire many houses of the Kola, Bhanderpur, Mithapur, Balubhara areas. The Pak army brutally killed 11 persons of village Mohanpur. Many Pak soldiers and 2 freedom fighters were killed in a battle between the Pak army and the freedom fighters on 15 October 1971 at Bhandarpur of Kola union. Besides, there was mass killing during the War of Liberation at Sompur Vihara near village Paharpur.
Marks of War of Liberation Mass grave 3 (Mohanpur, Bhandarpur and Parsombari).
Religious institutions Mosque 235, temple 93, church 2, sacred place 1.
Literacy rate and educational institutions Average literacy 45.2%; male 50%, female 40.1%. Educational institutions: college 5, technical college 2, secondary school 33, community school 14, primary school 101, madrasa 25. Noted educational institutions: Badalgachhi Government College (1972), Badalgachhi Technical and Commerce College (1999), Balubhara Arabic High School (1914), Badalgachhi Pilot High School (1942), Gaira Tetulia Fazil Madrasa (1967).
Cultural organisations Library 3, club 56, cinema hall 1, playground 31.
Main sources of income Agriculture 71.84%, non-agricultural labourer 2.1%, industry 1.55%, commerce 12.25%, transport and communication 3.5%, service 4.32%, construction 0.72%, religious service 0.12%, rent and remittance 0.1% and others 3.5%.
Main crops Paddy, wheat, potato, mustard seed, sugarcane, vegetables.
Extinct or nearly extinct crops Sesame, linseed, black gram.
Main fruits Mango, jackfruit, banana, papaya, litchi.
Fisheries, dairies and poultries This upazila has a number of fisheries, dairies and poultries.
Communication facilities Roads: pucca road 17 km, semi-pucca road 8 km, mud road 150 km.
Extinct or nearly extinct traditional transport Palanquin, horse carriage.
Noted manufactories Flour mill, ice factory, biscuit factory.
Cottage industries Goldsmith, blacksmith, potteries, nakshi katha, nakshi pakha, bamboo and wood work.
Hats, bazars and fairs Hats and bazars are 18, fairs 1, most noted of which are Balubhara, Mithapur, Paharpur, Enayetpur, Badalgachhi, Bhandarpur and Nazirpur hats.
Main exports Paddy, wheat, mustard seed, potato, bamboo products and potteries.
Access to electricity All the unions of the upazila are under rural electrification net-work. However 10.26% of the dwelling households have access to electricity.
Sources of drinking water Tube-well 95.35%, tap 0.32%, pond 0.03% and others 4.3%.
Sanitation 12.54% (rural 11.67% and urban 37.94%) of dwelling households of the upazila use sanitary latrines and 23.71% (rural 23.82% and urban 20.55%) of dwelling households use non-sanitary latrines; 63.75% of households do not have latrine facilities.
Health centres Upazila health complex 1, satellite clinic 3, family planning centre (RD) 3, union family welfare centre (FWC) 6, clinic 1, community clinic 11.
NGO activities brac, CARE, proshika, Ujjiban, asa. [Md Mukhlesur Rahman]
References Bangladesh Population Census 2001, Bangladesh Bureau of Statistics; Cultural survey report of Badalgachhi Upazila 2007.