Akkelpur Upazila (joypurhat district) area 139.47 sq km, located in between 24°51' and 25°03' north latitudes and in between 88°59' and 89°06' east longitudes. It is bounded by joypurhat sadar and khetlal upazilas on the north, adamdighi upazila on the south, dhupchanchia (bogra) upazila on the east, naogaon sadar and badalgachhi (naogaon) upazilas on the west.
Population Total 128952; male 65269, female 63683; Muslim 120129, Hindu 7658, Buddhist 24 and others 1141. Indigenous communities such as santal and munda belong to this upazila.
Water bodies Main rivers: Tulsi Ganga, Chiri and nagar.
Administration Akkelpur Thana was formed in 1972 and it was turned into an upazila on 15 February 1983.
Upazila
Municipality
Union
Mouza
Village
Population
Density (per sq km)
Literacy rate (%)
Urban
Rural
Urban
Rural

1

5

116

145

21683

107269

925

57.6

53.6
Municipality

Area
(sq km)

Ward

Mahalla

Population

Density (per sq km)

Literacy rate (%)

15.96

9

15

21683

1359

57.6
Union
Name of union and GO code
Area (acre)
Population
Literacy rate (%)
Male
Female

Gopinathpur 15

6151

11055

10981

55.63

Tilakpur 79

7112

11556

11304

47.65

Raikali 31

7040

11081

10873

49.47

Rukindipur 47

6955

12765

12308

59.72

Sunamukhi 63

6846

7572

7774

55.37
Source Bangladesh Population Census 2001, Bangladesh Bureau of Statistics.
Archaeological heritage and relics House of Raja Ramdhan (Ramshala), Trench of Mukut Raja (Amatta), Temple of Sree Sree Gopinath Jieu (15th century, Gopinathpur), an ancient coin (Kushan period, at village Roykali); a big Surya statue and a few Bishnu statues have been discovered in village Deora.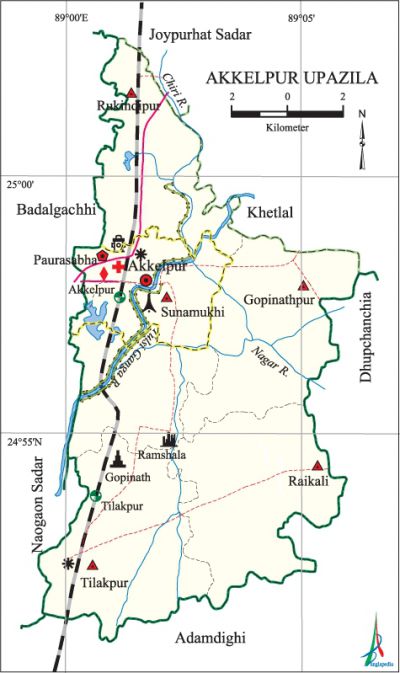 History of the War of Liberation During the war of liberation 15 freedom fighters were captured and one was shot dead by the members of the Rajakar and Al-Badr at village Kanpur. The rest were handed over to the Pak army posted at Akkelpur. The Pak army killed and buried them at a place in village Amatta on the west side of the Akkelpur Railway station. In October the freedom fighters (approximately 150) under Kazi Farmujul Hoque (Panna) surrounded Kanpur and killed 6 collaborators. In May 1971 the Pak army killed by beating 17 Garoan (bullock cart driver) at Akkelpur.
Marks of the War of Liberation Mass grave 3 (adjacent to village Amatta, adjacent to Akkelpur Senior Madrasa and west side of the Railway); Memorial monument 1.
Literacy rate and educational institutions Average literacy 54.3%; Male 59.1%, female 49.3%. Educational institutions: college 5, technical college 2, secondary school 20, primary school 68, madrasa 13. Noted educational institutions: Sunamukhi Bilateral High School (1916), Jamalganj Multilateral High School (1944), Akkelpur FU Pilot High School (1948).
Newspaper and periodicals Joypur Barta (weekly).
Cultural organizations Club 22, voluntary organisation 21, orphanage 4.
Main sources of income Agriculture 66.08%, non-agricultural labourer 1.85%, commerce 14.65%, transport and communication 3.12%, service 4.34%, construction 1.26%, religious service 0.21%, rent and remittance 0.68% and others 7.81%
Ownership of agricultural land Landowner 61.79%, landless 38.21%; agricultural landowner: urban' 48.63% and rural 64.43%.
Main crops Paddy, jute, wheat, mustard, potato, onion, garlic, vegetables.
Extinct or nearly extinct crops Kaun, linseed, sesame.
Main fruits Mango, jackfruit, litchi, banana, papaya, palm.
Fisheries, dairies and poultries Dairy 16, poultry 56.
Communication facilities Pucca road 69 km, semi-pucca road 25 km, mud road 189 km; waterways 3.77 nautical mile; railways 10 km.
Extinct or nearly extinct traditional transport Palanquin, boat, horse carriage and bullock cart.
Manufactories Rice mill, oil mill, ice factory, cold storage.
Cottage industries Weaving, potteries, goldsmith, blacksmith, wood work, bamboo work, cane work etc.
Hats, bazars and fairs Total number of hats and bazars are 20, most noted of which are Akkelpur Hat, Jamalganj Hat, Gopinathpur Hat, Tilakpur Hat, Roykali Hat, Sunamukhi Hat and Dole Purnima Mela (Gopinathpur) and Rukindipur Mela.
Main exports Jute, banana, onion, garlic.
Access to electricity All the wards and unions of this upazila are under rural electrification net-work. However 26.04% of the dwelling households have access to electricity.
Sources of drinking water Tube-well 94.67%, pond 0.16%, tap 0.43% and others 4.74%.
Sanitation 21.67% (rural 38.13% and urban 42.03%) of dwelling households of the upazila use sanitary latrines and 27.32% (urban 57.24% and rural 55.30%) of dwelling houses use non-sanitary latrines; 51.01% of households do not have latrine facilities.
Heath centres Upazila health complex 1, upazila health centre 2, family planning centre 5, charitable hospital 2, clinic 1.
Natural calamities There was scarcity of food due to damage of crops as a result of draught in 1866. A devastating flood in 1922 caused heavy loss of life and damaged about 90% of houses of the region. During this time great political leaders like Deshbandhu chitta ranjan das, maulana abdul hamid khan bhasani and huseyn shaheed suhrawardy visited the affected areas. About 30 thousand people died famine and epidemics like cholera and smallpox in 1943.
NGO activities Operationally important NGOs are brac, asa, thengamara mahila sabuj sangha, Sreejani Sangha, OSDR, Bangladesh Environment and Social Task (BEST), The Human Development Organisation. [Shanaz Parveen]
References Bangladesh Population Census 2001, Bangladesh Bureau of Statistics; Cultural survey report of Akkelpur Upazila 2007.