Bahram Saqqa Tomb a monument of archaeological interest, is situated in Burdwan (West Bengal), and the place where the saint is buried is called after him Pir-Bahram. The saint is variously called Pir, Darvex and Haji. But at Burdwan, he is known as Pir Bahram or Bahram Saqqa. The mortal remains of the saint are interred inside a single domed mausoleum. The entrance with a portico in front is from the south. The tomb of Pir Bahram conforms to the square single-domed tomb style of Bengal architecture, maintaining links with similar earlier monuments. The dome seems to be of bulbous type with a Kalasa finial though it appears to be very squat. The height of the dome seems to be disproportionate to the main structure. The cornice is curved in the Bengali fashion in vogue in the Pre-Mughal period.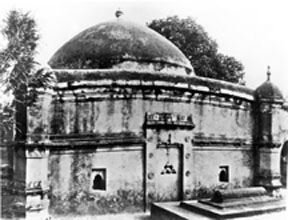 One of the most significant features of the tomb is the projection in the back wall, which breaks the monotony and adds an extra dimension to the building. At the back of the tomb, and in the middle part of the structure there is a big projection, placed inside a rectangular panel decorated with a chain and bell motif, hanging from the lintel of the door. The same type of hanging chain and bell motif is found in the adina mosque (Pandua), chhotta sona mosque (Gaur) and bagha mosque (Rajshahi). The back wall is divided into two parts by curved horizontal mouldings, as in the eklakhi mausoleum at hazrat pandua, Malda (1415), which gives the illusion of a double storied building.
The tomb has four octagonal corner towers, one at each corner. The corner towers are topped with small solid cupolas with Kalasa finial. The octagonal towers are divided into three sections by horizontal mouldings. The original brick carvings have now been hidden in plaster and lime wash. The walls are plastered in the Mughal style. In the lower portion of the outer side of the western wall two small niches appear on either side of the central projection.
Henry Ferdinand Blochmann noticed two Persian inscriptions, which were later set up on an outer wall of the Astana. On the basis of these two inscriptions the death of the saint can be dated in 970 AH (1562-63 AD). [Rasheda Waiz]