Bandar Thana (Barisal Metropolitan)
Bandar Thana (Barisal Metropolitan) area 279.81 sq km, located in between 22°36' and 22°42' north latitudes and in between 90°21' and 90v31' east longitudes. It is bounded by kaunia thana on the north, bakerganj upazila on the south, mehendiganj and bhola sadar upazils on the east, kotwali thana on the west.
Population Total 88385; male 45261, female 43124; Muslim 84320, Hindu 3993, Buddhist 10, Christian 34 and others 28.
Water bodies Main rivers: kirtankhola, tentulia.
Administration Bandar thana was formed comprising Char Kowa, Chandpura, Tungibaria and Chandra Mohan unions of Barisal Sadar Upazila and and part of Dapdapia Union of Nalchity upazila of Jhalokati district.
Thana
Ward and Union
Mahalla and Mouza
Population
Density (per sq km)
Literacy rate (%)
Urban
Rural
Urban
Rural
4+1 (part)
40
-
88385
317
-
55.84
City Ward
Ward and Union
Area (sq km)
Population
Literacy rate (%)
Male
Female
Char Kowa  43
38.39
16165
14759
53.09
Chandra Mohan 33
22.93
7189
6657
44.28
Chandpura 32
23.86
8877
8577
59.47
Tungibaria 94
20.13
10477
10466
53.76
Dapdapia 15 (part)
4.74
2553
2665
68.61
Source Bangladesh Population Census 2001, Bangladesh Bureau of Statistics.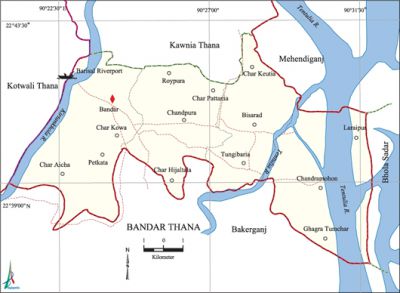 Literacy rate and educational institutions Average literacy 55.84%; male 57.11%, female 54.53%. Noted educational institutions: Physical Education College, Ziaur Rahman Degree College.
Noted installations Barisal Riverport.
Main sources of income Agriculture 36.90%, non-agricultural labourer 6.47%, industry 1.33%, commerce 19.48%, transport and communication 4.90%, service 15.08%, construction 2.80%, religious service 0.16%, rent and remittance 0.85% and others 12.03%.
Ownership of agricultural land Landowner 45.81%, landless 54.19%.
Main crops Paddy, jute, vegetables.
Extinct or nearly extinct crops Pulse, kaun, linseed.
Main fruits Mango, jackfruit, litchi, papaya, black berry, coconut, betel nut.
Fisheries, dairies and poultries Fisheries 22, poultries 10.
Extinct or nearly extinct traditional transport Bullock cart and horse carriage.
Cottage industries Blacksmith, potteries, cane work.
Main exports Paddy, vegetables.
Access to electricity All the unions of the thana are under electricity net-work; however 40.65% of the dwelling houses have access to electricity.
Sources of drinking water Tube well 89.86%, pond 7.37%, tap 0.38% and others 2.39%.
Sanitation 33.92% of the dwelling households use sanitary latrines and 57.03% use non-sanitary latrines; 9.05% of the dwelling houses do not have sanitation facilities. [Akhtaruddin Chowdhury]
References Bangladesh Population Census 2001, Bangladesh Bureau of Statistics.