Bandar Upazila (narayanganj district) area 55.19 sq km, located in between 23°35' and 23°42' north latitudes and in between 90°31' and 90°35' east longitudes. It is bounded by sonargaon upazila on the north, munshiganj SADAR upazila on the south, Sonargaon upazila on the east, narayanganj sadar upazila and the Shitalakshya river on the west.
Population Total 250220; male 129035, female 121185; Muslim 239400, Hindu 10690, Buddhist 49, Christian 26 and others 55.
Water bodies Main river: shitalakshya.
Administration Bandar Thana was formed in 1964 and it was turned into an upazila in 1993.
Upazila
Municipality
Union
Mouza
Village
Population
Density (per sq km)
Literacy rate (%)
Urban
Rural
Urban
Rural

1

5

89

158

128561

121659

4481

53.7

59.98
Municipality

Area
(sq km)

Ward

Mahalla

Population

Density
(per sq km)

Literacy rate (%)

5.94

4

39

250220

4481

53.7
Union
Area (sq km)
Mouza
Population
Literacy rate (%)

Male

Female

Kalagachhia 47

2270

18839

19138

53.08

Dhamgar 31

2322

11332

10213

47.62

Bandar 15

2064

12714

12278

46.87

Madanpur 63

2573

8155

7399

50.63

Musapur 79

3083

11196

10395

41.72
Source Bangladesh Population Census 2001, Bangladesh Bureau of Statistics.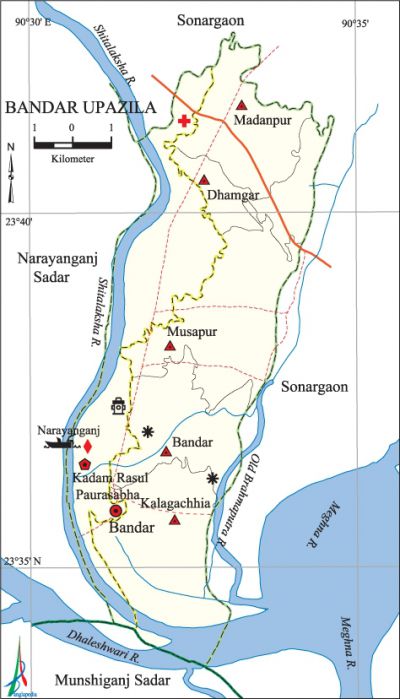 Archaeological heritage and relics bandar shahi mosque (1481 AD), Baba Saleh Mosque and Tomb (1504 AD), Nabiganj Kadam Rasul Shrine (1580), Dewanbagh Mosque, Sonakanda Fort and Mosque (1600), Farazikanda Mosque.
Historical events A number of battles were fought between the Mughal invaders and the defending Afghan rulers musa khan, Abdullah Khan, Daud Khan and the other bhuiyans of Bengal in the early seventeenth century.. On 3 April 1971 the Pak army brutally killed 54 innocent persons in the playground of Sirajdoullah Club. A direct encounter between the freedom fighters and the Pak army was held at Dhamgar area of the upazila on the bank of the river Shitalakshya on 22 November. In another encounter on 27 November the freedom fighters killed a number of Pak soldiers and destroyed a Pak Gunboat. On 12 December the Pak army was defeated and fled to the west side of the river Shitalakshya. Besides, many Pak soldiers were killed or wounded in a direct encounter with the freedom fighters at a place near the Railway Station of the Bandar upazila; this time the Pak army surrendered to the freedom fighters. Bandar upazila was liberated on 15 December.
Religious institutions Mosque 252, temple 14, church 5, sacred place 2, tomb 5. Noted religious institutions: Bandar Shahi Mosque, Farazikanda Mosque, Baba Saleh Mosque, Kadam Rasul Shrine, Tomb of Fateh Shah, Rajghat Mandir, Sabdi Mandir, Premtala Mandir, Langalbanda holy bathing place.
Literacy rate and educational institutions Average literacy 53.7%; Male 57.8%, female 49.4%. Educational institutions: Marine engineering college 1, college 3, secondary school 20, primary school 86, Kindergarten 5, madrasa 7. Noted educational institutions: Bandar BM Union High School (1900), Ibrahim Alam Chan High School (1947), Bandar Girls' High School, Madanpur Rahmania High School, Malibagh Keramatia High School, Kalagachhia Union High School, Dhakeshwari Mill High School, Nabiganj Girls' High School, Samsuzzoha Union High School, Haji Abdul Malek High School, Sonakanda High School, Bandar Islamia Senior' Madrasa, Madanpur Riazul Ulum Senior Madrasa.
Cultural organisations Club 22, library 2, cinema hall 3, playground 17, women's organisation 26, community centre 1, theatre group 1, labour welfare centre 1.
Main sources of income Agriculture 7.18%, non-agricultural labourer 4.09%, industry 5.29%, commerce 23.47%, transport and communication 5.29%, service 29.05%, construction 2.59%, religious service' 0.20%, rent and remittance 7.11% and others 15.37%.
Ownership of agricultural land Landowner 29.84%, landless 70.16%.'
Main crops Potato, paddy, jute, mustard, wheat.
Extinct or nearly extinct crops Sugarcane, betel leaf, sweet potato, kaun, linseed, arahar.'
Main fruits Mango, banana, papaya.
Fisheries, dairies and poultries Fishery 9, dairy 123, poultry 141, nursery 30.
Communication facilities Pucca road 69.82 km, semi-pucca road 4.42 km, mud road 303.90 km; railways 13 km. waterways 16 nautical miles.
Extinct or nearly extinct traditional transport Palanquin, duli.
Noted manufactories Jute mill, textile mill, oil mill, dockyard and engineering workshop, electricity supply centre, particle board mill, news print mill, intercom fabrics.
Cottage industries Goldsmith, weaving, blacksmith, potteries, bamboo work, cane work.
Hats, bazars and fairs Hats and bazars are 30, fairs 5, most noted of which are Sonakanda, Langalbanda, Madanpur hats, Islamia Super Market, Ispahani, Chowdhury Bari and Sabdi bazars and Kadam Rasul Shrine Mela, Langlalbanda Mela and Madanpur Mela.
Main exports Potato, mustard, hardboard, oil, corrugated iron sheet.
Access to electricity All the wards and unions of the upazila are under rural electrification net-work; however 93.57% of the dwelling households have access to electricity.
Sources of drinking water Tube-well 88.13%, tap 9.74%, pond 0.45% and others 1.63. The presence of arsenic in 34.17% of the total 18647 shallow tube wells' water has been detected.
Sanitation 51.16% of dwelling households of the upazila use sanitary latrines and 46.75% of dwelling households use non-sanitary latrines; 2.09% of households do not have latrine facilities.
Health centres Upazila health complex 1, satellite clinic and family planning centre 4, medical sub-centre 3, clinic 4.
Natural disasters The cyclone of 1969 and the flood of 1988 caused a huge damage to settlements, livestock and crops of the upazila.
NGO activities Operationally important NGOs are asa, brac, proshika, SIDA, Sheba Parishad, ODP, Mohila Somaj Kallayan Somiti. [Md. Iftekhar Uddin Bhuiyan]
References Bangladesh Population Census 2001, Bangladesh Bureau of Statistics; Cultural survey report of Bandar Upazila 2007.