Narayanganj District (dhaka division) area 687.76 sq km located in between 23°33' and 23°57' north latitudes and in between 90°26' and 90°45' east longitudes. It is bounded by narsingdi and gazipur districts on the north, munshiganj district on the south, brahmanbaria and comilla districts on the east, dhaka district on the west.
Population Total 2173948; male 1161971, female 1011977; Muslim 2057398, Hindu 115151, Buddhist 695, Christian 385 and others 319.
Water bodies Main rivers: shitalakshya, meghna, old brahmaputra, buriganga, balu, dhaleshwari.
Administration Narayanganj Sub-division was formed in 1882 and it was turned into' distict in 1984. Of the five upazilas of the district araihazar is the largest (183.35sq km) and bandar is the smallest (55.84 sq km). narayanganj city corporation was established on 5 May 2011.
District
Area (sq km)
Upazila
Municipality
Union
Mouza
Village
Population
Density (per sq km)
Literacy rate (%)
Urban
Rural

1702.56

5

3

45

785

1120

269087

1156235

837

35.9
Others Information of District

Name of Upazila

Area
(sq km)

Municipality

Union

Mouza

Village

Population

Density
(per sq km)

Literacy rate (%)

Gomastapur

318.13

1

8

166

227

240123

755

35.4

Nawabganj Sadar

451.80

1

14

174

211

452650

1002

38.1

Nachole

283.68

-

4

201

197

132308

466

40.3

Bholahat

123.52

-

4

45

93

92149

746

39.2

Shibganj

525.43

1

15

199

392

508092

967

32.5
Source Bangladesh Population Census 2001, Bangladesh Bureau of Statistics.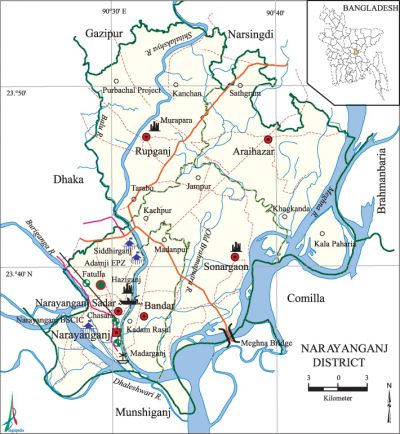 History of the War of Liberation In 1971 Narayanganj district was under Sector 2. On 28 March the Pak army launched a surprise attack on Uttar Chasara of Narayanganj sadar and killed a number of people. On 3 April the Pak army brutally killed 54 persons at the playground of Sirajuddowla Club under Bandar upazila. During the war of liberation the freedom fighters raided the Razakar camp at Baburail Bridge and killed 7 razakars. On 29 November the Pak army shot 139 persons dead at a place on the bank of the Buriganga in Dikri Char area under Narayanganj Sadar upazila. Besides, the Pak army conducted mass killing at village Sanmandi, Pirojpur and Chilarbagh of Sonargaon upazila.
Literacy rate and educational institutions Average literacy 51.7%; male 55.9%, female 46.9%. Educational institutions: college 16, technical college 2, marine technology centre 1, vocational school 2, secondary school 127, primary school 458, kindergarten 76, collegiate school 1, madrasa 56. Noted educational institutions: Government Tolaram College (1937), Narayanganj Government Mohila College (1964), Sonargaon Degree College (1969), Murapara Degree College, Araihazar Government Degree College, Kadam Rasul College, Narayanganj Law College (1966), Institute of Marine Technology, Narayanganj High School (1885), Araihazar Pilot School (1897), Sonargaon JR institute (1900), BM Union High School (1900), Morgan Girls' High School (1910), Duptara CC High School (1912), Deobhog Haji Ujir Ali High School (1924),' IT Government High School (1926), Mograpara HGGS Smriti Biddayatan (1939), Narayanganj Government High School (1958), Bandar Girls' High School, Gopaldi Fazil Madrasa (1952), Darussunnah Kamil Madrasa.
Newspapers and periodicals Daily: Shitalakshya, Khaborer Pata, Sochaton, Ajker Narayanganj, Soja Sapta, Dandy Barta, Desher Alo, Ihakal, Juger Chinta, irregular: Sonargaon Kagoj, Sonargaon Porikroma.
Folk culture Jarigan, Palagan, Murshidigan, Meyeli geet, mystic songs, etc. Besides, Bangladesh Folk Art and Crafts Foundation (Sonargaon) arranges for various folk festivals throughout the year.
Main sources of income Agriculture 14.38%, non-agricultural labourer 3.91%, industry 7.33%, commerce 23.87%, transport and communication 6.34%, service 23.13%, construction 2.52%, religious service 0.19%, rent and remittance 3.77% and others 14.56%.
Tourist spots bangladesh folk art and crafts foundation (sonargaon) Panam Nagar, Russell Park and Zoo at Rupganj, Zamindar Bari and Zinda Park at Murapara, Mary Anderson Floating Restaurant at Fatulla, Isha Khan Fort at Hajiganj, sonakanda fort, Tomb and Mosque of Bibi Mariam in Narayanganj Sadar upazila. [Mokammal H Bhuiyan]
See also The upazilas under this district.
References Bangladesh Population Census 2001, Bangladesh Bureau of Statistics; Cultural survey report of Narayanganj District 2007. Cultural survey report of upazilas of Narayanganj District 2007.