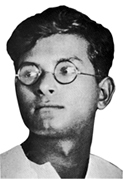 Bandyopadhyay, Manik (1908-1956) novelist and short story writer, was born in the town of Dumka in Santal Pargana, Bihar, on 29 May 1908, where his father, Harihar Bandyopadhyay, was stationed at the time. Harihar's ancestral home was Malabadiya, a village near Bikrampur, in dhaka district. His given name was Prabodh Kumar; Manik was his nickname.
Because of his father's frequent transfers, Manik Bandyopadhyay had a checkered schooling in a number of institutions at Dumka, Ara, Sasaram, Kolkata, brahmanbaria, Barasat, tangail and Midnapore. He eventually passed the Entrance examination from Midnapore Zila School in 1926. After completing his Intermediate in Science from Wesleyan Mission College, Bankura, in 1928, he enrolled in the Bachelor of Science programme in Presidency College. However, he was unable to complete his studies and started working.
He established and ran the Udayachal Printing and Publishing House along with his brother from 1934 till 1940. At the same time, he worked as assistant editor of the Bangashri magazine (1937-39). He was also the provincial organiser of the National War Front of the Indian government and the Publicity Secretary of the Department of Bengal.Manik Bandyopadhyay's first story, 'Atasi Mami' (1928), was published in the Bichitra while he was studying at Presidency College and created quite a stir. He continued to write, rising to the rank of one of the topmost writers of modern Bangla. He belonged to the Kallol group, the literary circle that broke away from the dominating influence of rabindranath tagore and sharat chandra chattopadhyay. In 1944 he became a member of the Communist Party and continued to be involved in party activities until his death. He was also involved in anti-fascist literary and cultural circles.
In early life Manik was influenced by Freud, Jung, and Adler, and his writings explore the intricate psychology of human beings His later writings are markedly socialistic in nature and reveal his Marxist leanings. He shows how social and financial realities shape urban life. His noted books include the novels, Janani (1935), Dibaratrir Kavya (1935), Padmanadir Majhi (1936), Putulnacher Itikatha (1936), Shahartali (1940, 1941), Chihna (1947), Chatuskon (1948), Sarvajanin (1952), Arogya (1953) etc. He was also a powerful short story writer with several collections of short stories, among them, Pragaitihasik (1937), Sarisrp (1939), Samudrer Svad (1943), Halud Poda (1945), Ajkal Parashur Galpa (1946), Manik Bandyopadhyay Shrestha Galpa (1950), Pheriwala (1953).
Padmanadir Majhi (The Boatman of the River padma), which has been made into a movie, and Putulnacher Itikatha (The Story of the Puppet Dance) are his most famous novels. Manik Bandyopadhyay had known financial hardship himself and had been helped by the West Bengal government which arranged a literary stipend for him. This is why, in Padmanadir Majhi, he could describe vividly how poverty affects human behaviour.
Manik Bandyopadhyay was a member of the Purvavanga Pragati Lekhak O Shilpi Sangha, an association of progressive writers and artists from East Bengal. He was elected joint secretary of the body in 1946 and twice presided over its conventions. He worked for communal harmony in the Tollyganj area during the communal riots in 1946. He died in Kolkata on 3 December 1956. [Syed Azizul Huq]