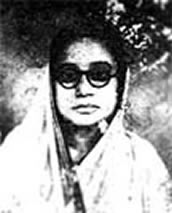 Banu, Selina (1926-1983) politician, educationist and social worker. She was born on 12 October 1926 in Pabna town. Her father Washim Uddin Ahmad (1876-1928) was a pleader, the Vice-President of Pabna District Board, the Chairman of the Municipality and a member of Bengal Legislative Council (1920). Selina Banu Passed the Matriculation Examination in 1943 from Pabna Girl's School, the Intermediate in 1945 from Pabna Edward College and took her graduation in science in 1949 from the same college. In 1961 she graduated in education from Dhaka Teacher's Training College.
Selina Banu was at first a teacher in Pabna Govt. Girl's School. She was the head-mistress of Pabna Central Girl's School. Besides, she worked as a teacher in Rangpur Govt. Girl's School and Nari Sikkhsa Mondir (girl's school) in 1959-1964. In 1964 she joined as the headmistress in Comilla Farida Bidyatan. She was engaged there till her death. Selina Banu joined the Communist Study Group (1939) in her student life. She served out food at alms-houses managed by women Self-defence Association during the famine of 1943. She was the President of Pabna District Students Federation in 1946-1948. In 1949 Selina Banu joined the newly formed Awami Muslim League and in 1953 was elected the Woman Secretary of the Provincial Committee. In the election of 1954 she was elected a member of East Pakistan Provincial Legislative Assembly from Pabna women seat of the united front and nominated the Whip of Awami League Parliamentary Board. She protested against the inhuman persecution of the police on Ila Mitra in the Legislative Assembly and demanded the release of the detenues staying without trial.
In 1957 Selina Banu was elected a member of the Central Committee of National Awami Party (NAP) established by maulana abdul hamid khan bhasani. In 1964 she worked in resisting the communal riot in Dhaka. In 1967 she joined National Awami Party (Mosco) and elected a member of the Central Committee. In 1969 she presided over the protest meeting in Comilla, organised by the leaders against the killing of Dr. shamsuzzoha of rajshahi university. She worked in Agartala Crafts Camp of Tripura and Salt Lake Refugee Camp of Kolkata during the Liberation War of Bangladesh in 1971.
Selina Banu worked as a Director of Comilla Madhumita Kachi-Kancha Mela. She took a group of volunteers to Pabna and cooperated with the medical treatment organised there at the time of the outbreak of a cholera epidemic. She engaged herself with the activities of Mahila Parishad after its establishment in 1969. She distributed relief materials in tornado-affected Patuakhali district in 1970.
Selina Banu wrote many articles on history, tradition, society and culture. She died on 26 January 1983. [Mamun Siddiqui]