Bhangura Upazila (pabna district) area 136 sq km, located in between 24°09' and 24°21' north latitudes and in between 89°20' and 89°28' east longitudes. It is bounded by tarash, chatmohar and ullahpara upazilas on the north, faridpur (Pabna) upazila on the south, Ullahpara and Faridpur upazilas on the east, Chatmohar upazila on the west.
Population Total 99474; male 50486, female 48988; Muslim 94921, Hindu 4527 and others 26.
Water bodies Main rivers: atrai and baral.
Administration Bhangura Thana, now an upazila, was formed in 1980.
Upazila
Municipality
Union
Mouza
Village
Population
Density (per sq km)
Literacy rate (%)
Urban
Rural
Urban
Rural

1

6

67

110

23441

76033

731

45.6

36.0
Municipality

Area
(sq km)

Ward

Mahalla

Population

Density
(per sq km)

Literacy rate (%)

5.13

9

32

15044

2933

52.4
Upazila Town

Area
(sq km)

Mouza

Population

Density
(per sq km)

Literacy rate (%)

13.46

3

8397

624

33.3
Union
Name of union and GO code
Area (acre)
Population
Literacy rate (%)
Male
Female

Ashta Manisha 15

4236

7279

6888

38.52

Khan Marich 63

7495

10556

10809

30.08

Dil Pasar 47

5127

8341

7973

35.06

Parbhanguria 79

6485

6673

6441

38.55

Bhangura 31

6413

6623

6418

36.53

Munotosh 19

2850

3308

3121

42.53
Source Bangladesh Population Census 2001, Bangladesh Bureau of Statistics.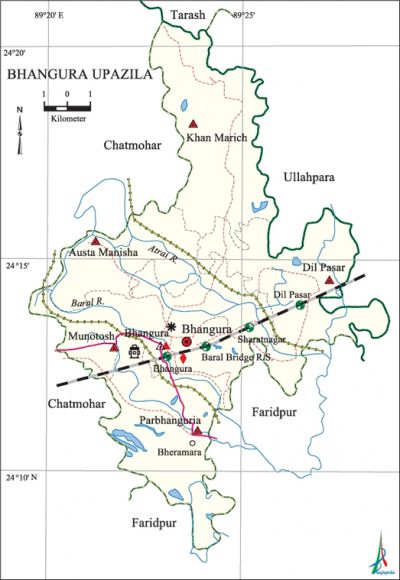 Archaeological heritage and relics Three-domed ancient Mosque (Kazipara, Chandipur).
History of the War of Liberation During the war of liberation in 1971 a battle was fought between the freedom fighters and the Pak army and rajakars near Baral Bridge in which the Pak army was defeated and a number of 'rajakars surrendered to the freedom fighters with their arms and ammunitions. Bhangura upazila was liberated on 15 December 1971.
Religious institutions Mosque 162, temple 29. Noted religious institutions: Bhangura Jami Mosque, Kalibari Mandir, Ashta Manisha Kali Mandir.
Literacy rate and educational institutions Average literacy 38.3%; male 42.7%, female 33.8%. Educational institutions: college 2, collegiate school 1, secondary school 11, primary school 91, satellite school 13, community school 3, madrasa 3. Noted educational institutions: Haji Jamaluddin Degree College (1970), Bhangura Women College (1998), Khan Marich Technical and Business Management College (2002), B. B School and College (1985), Bhangura Zarina-Rahim Girls' High School (1969), Hasina-Momin Girls' High School (1972), Bhangura Union Pilot Multilateral School, Sharatnagar Fazil Madrasa (1927), Haji Gayez Uddin Women's Fazil Madrasa (1985).
Newspapers and periodicals Tawhid, Sachetan, Beduin, Manjil, Zharna, Unmachan, Chetana, Palli Sahitya, Smriti Lekha, Nepather Sanglap, Nishit Pradip; defunct: Zaminder, Bijli, Sombarer Chithi, Patitar Mukti, Buli, Tachhbir, Audbudaya, Akheri Takrir.
Cultural organisations Library 2, club 73, cinema hall 2, theatre group 1, women's organisation 6.
Main sources of income Agriculture 70.49%, non-agricultural labourer 2.61%, industry 2.21%, commerce 11.51%, transport and communication 1.84%, service 5.70%, construction 0.98%, religious service 0.20%, rent and remittance 0.09% and others 6.58%.
Ownership of agricultural land Landowner 61.58%, landless 38.42%; agricultural landowner: urban 45.85% and rural 66.30%.
Main crops Paddy, jute, wheat, khesari, masur, vegetables, onion, garlic.
Extinct or nearly extinct crops kaun, china, gram, bhura, barley.
Main fruits Mango, jackfruit, black berry, papaya, banana, litchi.
Fisheries, dairies and poultries Fishery 50, dairy 637, poultry 130.
Communication facilities Roads: pucca 18.04 km, semi-pucca 6.47 km, mud road 210 km; waterways 10.80 nautical miles; railways 11 km; railway stations 4.
Extinct or nearly extinct traditional transport Palanquin, dhuli, bullock cart, horse carriage.
Noted manufactories Flour mill, oil mill, saw mill, welding factory.
Cottage industries Goldsmith, blacksmith, weaving, bamboo work, wood work, tailoring.
Hats, bazars and fairs Hats and bazars are 20, fairs 3, most noted of which are Ashta Manisha Bazar, Bhangura Bazar, Sharatnagar Bazar, Bheramara Bazar and Baral Bridge Bazar.
Main exports Paddy, wheat, jute, fish, milk, garlic, onion, poultry.
Access to electricity All the wards and unions of the upazila are under rural electrification net-work. However 24.10% dwellings have access to electricity.
Sources of drinking water Tube-well 93.70%, pond 0.35%, tap 0.27% and others 5.68%.
Sanitation 21.04% (rural 14.71% and urban 42.11%) of dwelling households of the upazila use sanitary latrines and 75.63% (rural 81.75% and urban 55.28%) of dwelling households use non-sanitary latrines; 3.33% of households do not have latrine facilities.'
Health centres Upazila health complex 1, family planning centre 5, clinic 1.
Natural Disasters' Many people of the upazila were victims of the great famine of 1770 (BS 1176). Besides, the floods of 1988 and 1998 caused heavy damage to settlements, crops and livestock of the upazila.
NGO activities brac, asa, thengamara Mmahila sabuj sangha, proshika. [Md Nuruzzaman Musafir]
References Bangladesh Population Census 2001, Bangladesh Bureau of Statistics; Cultural survey report of Bhangura Upazila 2007.