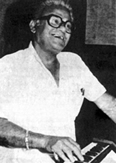 Bhattacherjee, Debu (1930-1994) painter, composer, music director. Born in Brahmanbaria district in 1930 in a family that hailed from Fakirhat under Bagerhat district, Debu Bhattacherjee obtained his graduation in painting from Calcutta Art School in 1950. His childhood name was Prankumar Bhattacherjee but later his name in school was registered as Devdas Bhattacherjee. Shilpacharya zainul abedin was his teacher and while a student of art, he became close to celebrated painters like Quamrul Hassan and SM Sultan.
Debu however, did not continue his career as a painter. Instead, he joined an orchestra group led by Timirbaran in 1945. It was with this group that he developed his extraordinary skill as a music composer and director. Debu also took special interest in dance and drama. As a leading composer, Debu discovered many promising singers. In the 1960s, Debu began his experiments of employing non-Bengali artists for singing Bangla songs composed by him.
He composed and recorded Bangla songs with famous Non-Bengali singers including Mehdi Hassan and Ahmed Rushdi and veteran Bangali singers like Bashir Ahmed, Shahnaj Rahmatullah, Ferdousi Rahman and Runa Laila to popularise bangali culture in the then West Pakistan. Vocalist Suraya Multanikar and singer and music director Altaf Mahmud became famous through the training and patronage of Debu Bhattacherjee.
A good number of long play records of flute recitation by Debu on Indian classical ragas were released by the year 1950. Symphony and songs including Gazals and Geets of Debu have a unique style and character. His classical, semi-classical and folk-based tunes and modern songs are blends of local and western classics and although composed from the 1950s to the 1970s, they still hold influence. Debu's last performance on television and on stage was a duet concert, a spellbinding symphony on flute with the jaj musician Chieko Herman.
The masterpieces of this great composer include some Bangali patriotic songs written by leading poets of the country. He was honoured with the National Flim Award - 1976 as the best background music composer for the film Charitrahin, directed by Baby Islam. In 1997, he was posthumously awarded the Ekushey Padak in appreciation of his contributions to music. Debu Bhattacherjee died in 1994. [Mahbubul Alam]