Bimanbandar Thana (Sylhet Metropolitan)
Bimanbandar Thana (Sylhet Metropolitan)  area 110.59 sq km, located in between  24°00´ and 24°11´ north latitudes and in between  90°59´ and 91°15´ east longitudes. It is bounded by gowainghat upazila on the north, shah paran and kotwali model thanas on the south, jaintapur upazila on the east and jalalabad thana on the west.
Population  Total 97524; male 51579, female 45945; Muslim 82982, Hindu 14172, Buddhist 290, Christian 55 and others 25.
Water bodies  Main river: Singra.
Administration  Bimanbandar Thana was formed 11 August 2011, comprising two unions and two wards of Sylhet Sadar upazila.
Thana
Ward and Union
Mahalla
Mouza
Population
Density (per sq km)
Literacy rate (%)
Urban
Rural
Urban
Rural
2+2 (part)
11
28
22654
74870
882
71.38
44.77
Ward and Union
Ward and Union
Area (sq km)
Population
Literacy rate (%)
Male
Female
Ward no.  6 (part)
235
5469
4741
65.29
Ward no. 7  (part)
227
6549
5895
77.47
Khadimnagar
18844
20158
18663
39.74
Tuker Bazar
8342
19403
16646
49.79
Source Bangladesh Population Census- 2001, Bangladesh Bureau of Statistics.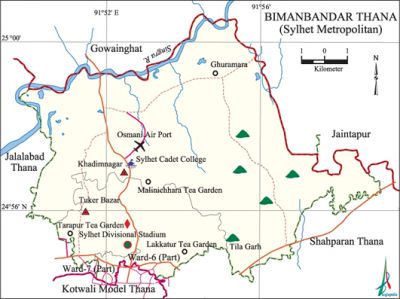 Marks of War of Liberation  Mass grave 1 (Adjacent to the Cadet College).
Literacy rate and educational institutions  Average literacy 58.07%; male 62.09%, female 53.51%. Noted educational institutions:  Sylhet Cadet College, Forest School.
Noted installations  Osmali International Airport, Sylhet Divisional Stadium, Malinichhar Tea Garden, Tarapur Tea Garden, Lakkatura Tea Garden.
Main sources of income  Agriculture 20.27%, non-agricultural labourer 7.11%, industry 2.25%, commerce 20.16%, transport and communication 5.94%, service 12.1%, construction 2.20%, religious service 0.34%, rent and remittance 3.08% and others 26.55%.
Ownership of agricultural land  Landowner 27.74%, landless 72.26%.
Main crops  Tea, paddy and vegetables.
Extinct or nearly extinct crops  Jute.
Main fruits  Mango, jackfruit, black berry, pineapple and banana.
Communication facilities  Roads: pucca 13.5 km, semi-pucca 4 km and mud road 52 km.
Extinct or nearly extinct traditional transport  Horse carriage, bullock cart.
Manufactories  Khadim Ceramics, BCSIC 1.
Noted Hats, bazars and fairs  Hats and Bazar 17, most noted of which are Tuker Bazar, Saheber Bazar, Balla Bazar, Akhali Naya Bazar, Choukhidekhi Bazar, Tathantula Bazar, Subid Bazar, Khadimnaghar Bazar, Pargana Bazar.
Main exports  Tea, paddy.
Access to electricity  All the wards and unions of the thana are under electrification net-work. However 42.99% dwellings have access to electricity.
Sources of drinking water  Tube-well 75.95%, pond 4.73%, tap 9.80% and others 9.52%.
Sanitation  51.39.12% of the dwelling households of the thana use sanitary latrines and 35.39% of the dwelling households use non-sanitary latrines; 13.22% households do not have latrine facilities.
Health centres  Clinic 2, family planning center 2.
NGO activities  brac, asa, FIVDB.  [Sirajul Islam]
References Bangladesh Population Census 2001, Bangladesh Bureau of Statistics.