Jalalabad Thana (Sylhet metropolitan) area 133.36 km, located in between 24°53' and 25°01' north latitudes and in between 91°42' and 91°52' east longitudes. It is bounded by companiganj and gowainghat upailas on the north, kotwali model and moglabazar thanas and bishwanath upazila on the south, bimanbandar thana and Gowainghat upazila on the east, chhatak and Bishwanath upazilas on the west.
Population Total 107977; male 55046, female 52931; Muslim 102252, Hindu 5646 and others 79.
Water bodies Singra River and Dobu Beel are notable.
Adminstration Jalalabad Thana was formed on 12 August 2011.
Thana
Ward and Union
Mouza
Population
Density (per sq km)
Literacy rate (%)
Urban
Rural
Urban
Rural
Ward 1, Union 5
42 -
13569
94408
3223
67.98
40.66
Ward and Union
Ward and name of Union
Area (sq km)
Population
Literacy rate (%)
Male
Female
Ward 8
0.97
7409
6160
67.98
Kandhigaon
৩৪.৬০
১৬৬৪২
১৬২৪২
৪০.১৪
Jalalabad
৩৩.৮৯
৭১০১
৬৯১১
৩৪.২৮
Muoghalgaon
৩০.২৭
১১১৩৪
১০৯৯১
৩৬.৯৯
Tuker Bazar (part)
2.40
1395
1197
52.50
Hat Khola
৩৪.৬০
১১৩৬৫
১১৪৩০
৩৯.৪২
Source Bangladesh Population Census 2001, Bangladesh Bureau of Statistics.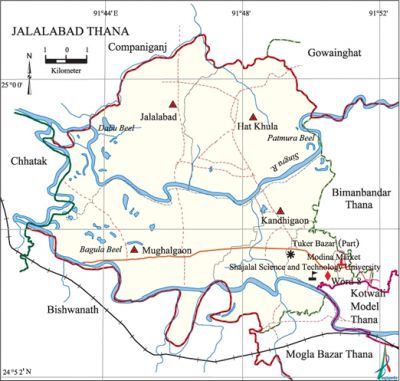 Noted religious institution Bababi Jamia Mosque.
Literacy rate and educational institutions Average literacy 45.21%; male 45.51%, female 39.92%. Noted educational institutions: Shahjalal University of Science and Technology, BGB School, Pathantola Madrasa, Shahjalal Jamia Islamia Madrasa.
Important installations BGB Sector Headquarters, Ansar Training Centre, Mazar of Hazrat Khurram (R), Kumargaon Bus Terminal and Kumargaon Power Sub Station.
Main sources of income Agriculture 48.76%, non-agricultural labourer 9.98%, industry 0.34%, commerce 9.85%, transport and communication 2.02%, service 3.39%, construction 2.09%, religious service 0.33%, rent and remittance 10.64% and others 12.60%.
Ownership of agricultural land Landowner 43.96%, landless 56.04%.
Main crops Paddy, vegetables.
Extinct or nearly extinct crops Kalai, green peas.
Main fruits Mango, jackfruit, kul, banana and guava.
Communication facilities Pucca road 24.71, semi-pucca road 22 and mud road 123.
Extinct or nearly extinct traditional transport Planquin, Soari.
Cottage industries Mora, shitalpati.
Hats, bazars and fairs Hats and bazars are 13; most noted of which are Tuker Bazar, Madina Market.
Access to electricity All the ward and unions of the thana are under electrification net-work. However 15.96% of the dwellings have access to electricity.
Sources of drinking water Tube-well 57.7%, tap 0.52%, pond 35.28% and others 6.50%.
Sanitation 28.09% of dwelling households of the thana use sanitary latrines and 54.68% of dwelling households use non-sanitary latrines; 17.23% of households do not have latrine facilities.
Health centres Satellite health centre 2, clinic 2.
NGO activities brac, FIVDB, asa. [Sirajul Islam]
References Bangladesh Population Census 2001, Bangladesh Bureau of Statistics.