Bose, Atul (1898-1977) artist and art organiser. As an artist Bose specialised in portraiture, landscapes and idyllic scenes in the realistic tradition and attained immense popularity. Born in Mymensingh in 1898, Atul Bose, after completing his primary education at Mymensingh studied at the Jubilee Art Academy in Calcutta, which was known for following a different course than the existing national school. The academy was a private institution that sought to train its pupils in the contemporary British art style as opposed to the Indianising trends evident in the art movement begun by abanindranath tagore and E Havell. Among his colleagues at the Jubilee Academy were Hemendranath Mazumdar and Bhabani Charan Laha. After completing his Jubilee art academy education, he went to Government Art School under Jamini Prakash Ganguli, Calcutta (untill 1918) and Royal Academy Rome Under Richard Sicart, Sir Charles Seams. Atul Bose received a scholarship from the university of calcutta to study art in London.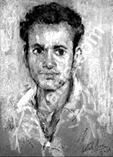 Atul Bose was among those artists who later helped Hemendranath Mazumdar to establish Indian Academy of Art in 1919. The Academy sought to emphasise realism in sharp contrast to the lyrical themes made with the wash technique and popularised by the Bengal school. He was the founder member of this Academy and he had also been the principal of the Government Art School, Calcutta for three years (from 1945). Afterwards he became the director of the Indian College of Art and Draftsmanship.
Bose preferred to use oil as the medium of his creativity. His paintings were marked by sensitive representation of an artist well versed in the technical nuances of his trade. The careful delineation of details was yet another characteristic feature of his paintings. He painted portraits from the original collections at the Windsor Castle and the Buckingham Palace under the commission of the Indian government. Of his famous paintings mention may be made of imaginative and evocative works like the Sphinx (oil on plywood) and the skillfully executed Self Portrait (1945). Atul Bose also offered for sale sets of portraits of Indian leaders at moderate prices and thus succeeded in reaching a wider clientele.
In 1921 Atul Bose along with Bhabani Charan Laha set up the Society of Fine Arts as a forum for the artists who were trying to rival the activities and exhibitions of the Indian School of Oriental Art. Bose embraced the academic mode of painting wholeheartedly. He soon became renowned as a portrait painter. The Rabindra Bharati University honored him with a D.Litt in 1970. Atul Bose Died in 1977. [Sima Roy Chowdhury]