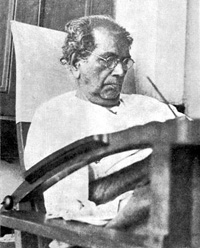 Tagore, Abanindranath (1871-1951) painter and litterateur, was born in the tagore family at Jorasanko in Kolkata on 7 August 1871; his father was Gunendranath Tagore. Abanindranath's formal schooling started in a Normal School in 1876; later he read in Sanskrit College for some days, but left it (1890) before taking the Entrance examination. He learnt English, French, Sanskrit and Bangla and studied Bangla literature and music all by himself.
His artistic bent took him to painting, initially in the Western style, then in the oriental style. He took lessons in painting from the Italian painter Guilardi, the English Palmer, the Japanese Taikan and others. He, however, felt most comfortable with the Indian style. Fine art in India got a new lease of life in his hands. His most brilliant works are paintings such as Nirbasita Yaksa (Yaksa in exile), Bharatmata (Mother India) and Shahjahaner Mrtyu (Death of Shahjahan).
He founded the Indian Society of Oriental Art (1970). His paintings were displayed at exhibitions in London, Paris and Japan.
Abanindranath became principal of the Art College of Kolkata in 1898 and continued to teach here before joining the University of Calcutta as Bageshri professor in 1921. He joined the Visva-Bharati University as its chancellor in 1942. He took an active part in the movement for bangla language, denunciation of foreign-made clothes, Rakhibandhan festival, movement for the development of local industries etc.
He was noted for his literary genius too; his critiques of fine arts are notable for their refined artistic judgment. His important writings include Shakuntala (1895), Ksirer Putul (The sweetmeat doll, 1896), Rajkahini O Bharatshilpa (The story of the Raj and Art of India, 1909), Banglar Vrata (Festivities of Bengal, 1919), Khajavchir Khata O Priyadarshika (Ledger-book and the Fair Lady, 1921), Chitraksar (Painting, 1929), Bageshvari Shilpa (Art of the Muse, 1941), Jorasankor Dhare (Living at Jorasanko, 1944), Sahaj Chitra Shiksa (Easy way to learn paintings, 1946), four volumes of stories (1846), Apan Katha (My own stories, 1946), Bharat Shilper Sadabga (Six Components of Indian Fine Art, 1947), Alor Phulki (Sparks of fire, 1947), Bharat Shilpe Murti (Image in Indian arts, 1947), Shilpayan (Fine Art, 1955), Kishor Savchayan (Stories for the Young, 1960), Badshahi Galpa (Stories of Kings, 1976), etc. He died in Kolkata on 5 December 1951. [Dulal Sarker]