Brahmanpara Upazila (comilla district) area 128.9 sq km, located in between 23°35' and 23°44' north latitudes and in between 91°03' and 91°11' east longitudes. It is bounded by kasba and muradnagar upazilas on the north, burichang upazila on the south, tripura state of India and Kasba upazila on the east, debidwar and Muradnagar upazilas on the west.
Population Total 181477; male 91880, female 89597; Muslim 176468, Hindu 4995 and others 14.
Water bodies Main rivers: gumti, Buri, Salda, Ghungur; Bara Khal (canal), Pallar beel, Makimpur Go-bak beel, Baroni beel at Jamtali and Shaitshalar dam are notable.
Administration Once Brahmanpara was a part of Kasba thana and it was included in Burichang thana in 1954. In 1968, Brahmanpara police out post was established and Brahmanpara thana was formed in 1876. It was turned into an upazila in 1983.
Upazila
Municipality
Union
Mouza
Village
Population
Density (per sq km)
Literacy rate (%)
Urban
Rural
Urban
Rural

-

8

53

65

3745

177732

1408

49.86

47.31
Upazila Town

Area
(sq km)

Mouza

Population

Density
(per sq km)

Literacy rate (%)

1.97

2

3745

1901

49.86
Union
Name of union and GO code
Area (acre)
Population
Literacy rate (%)
Male
Female

Chandla 44

3536

9509

9178

43.15

Dulalpur 30

3175

10463

10608

45.73

Brahmanpara 18

3734

10490

10038

49.43

Madhabpur 56

6206

14155

14043

47.69

Malapara 62

2556

7645

7731

48.34

Shashidal 88

6065

17825

16931

51.85

Sahebabad 82

2575

10019

9761

40.17

Sidlai 50

4008

11774

11307

48.58
Source Bangladesh Population Census 2001, Bangladesh Bureau of Statistics.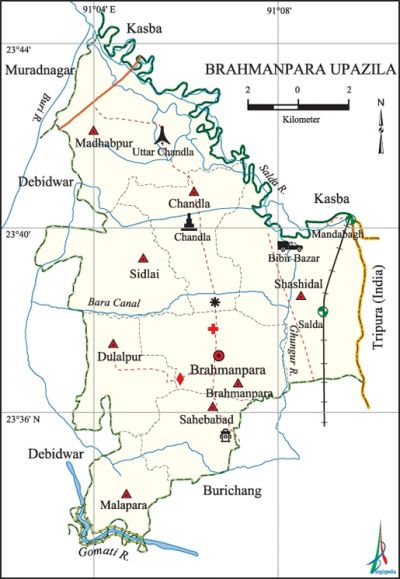 Archaeological heritage and relics Tombs of Panch Pir (1815) on the west side of Shashidal Railway Station, Chandla Shiva Mandir (eighteenth century), Math (1822) and place of pilgrimage at Harimangal, Tomb of Karim Shah.
History of the War of Liberation This upazila was under Sector 2 during the war of liberation. The civilians of the upazila in collaboration with the members of the Bangali EPR personnel 'killed three members of the Pak EPR by beating on 27 March at Shashidal. Eighteen Pak soldiers were killed in an encounter with the freedom fighters at a place near the Chhakarmar Bridge of the upazila at the end of June 1971. Fifteen Pak soldiers including one Captain were killed in an encounter with the freedom fighters of 4th Bengal Regiment at Holaimuri on the bank of the river Ghungur on the Kasba-Brahmanpara border. The Pak army established camp at the nearby Chandla and Saitshala villages and killed more than one hundred persons. Besides, encounters between the freedom fighters and the Pak army were held in many places of the upazila including Chandla, Bara Bhangania (Jirul), Tatera on the northern side of Sahebabad Bazar, Sidlai, Lalla, Malapara, Shashidal Deous, Kalamuria Bridge at Mukimpur, Mirpur (Madhabpur) and at South Tetabhumi.
Marks of the War of Liberation Mass grave 1 (on the bank of a pond at Harimangal near the Railway); mass killing site 2 (premises of Bhuiya Bari at north Chandala and premises of Prabodh Kumar Das at south Chandla).
Religious institutions Mosque 155, temple 12, tomb 4, sacred place 5, math 5. Noted religious institutions: Ramnagar joint Math (1705), Shaitshala Jami Mosque (1719), Chandala Shiva Mandir (1800), Rammahan Mandir at Shaitshala (1805), Mazar of Panch Pirer at Shashidal (1815), Math and sacred place at Harimangal (1822), Baghai Shah Mosque and Tomb.
Literacy rate and educational institutions Average literacy 47.36%; male 51.74%, female 42.97%. Educational institutions: college 9, secondary school 29, primary school 102, madrasa 19. Noted educational institutions: Sahebabad Degree College (1970), Shashidal Union High School (1890), Madhabpur Sheikhlal High School (1911), Madhabpur High School (1919), Chandla K. B High School (1920), Brahmanpara Bhagaban High School (1940), Brahmanpara Bhagaban Government High School (1945).
Newspapers and periodicals Fortnightly: Brahmanpara Burichang; monthly: Kriti Brahmanpara Burichang.
Cultural organisations Library 1, club 3, musical academy 1, cinema hall 1, playground 10.
Main sources of income Agriculture 63.18%, non-agricultural labourer 1.45%, industry 0.46%, commerce 13.93%, transport and communication 1.64%, service 11%, construction 0.83%, religious service 0.21%, rent and remittance 1.9% and others 5.4%.
Ownership of agricultural land Landowner 78.75%, landless 21.25%; agricultural landowner: urban 74.54% and rural 78.83%.
Main crops Paddy, mustard, potato, betel leaf, vegetables.
Extinct or nearly extinct crops Peanut, kaun, sugarcane, arahar, linseed, carrot, shalgam, pulse.
Main fruits Mango, jackfruit, banana, papaya, kamranga, karamcha.
Fisheries, dairies and poultries Dairy 34, poultry 28, hatchery 20, nursery 22.'
Communication facilities Roads: pucca 66 km, mud road 260 km; railways 8 km; railway stations 2.
Extinct or nearly extinct traditional transport Palanquin, bullock cart, horse carriage.
Noted manufactories Rice mill, saw mill, oil mill, flour mill, ice factory.
Cottage industries Goldsmith, blacksmith, potteries, jute work, handloom, tailoring, bamboo work, cane work.
Hats, bazars and fairs Hats and bazars are 5, fairs 7, most noted of which are Sahebabad, Dulalpur, Chandla, Madhabpur and Malapara Hat and Chandla Mela, Baishakhi Mela at Balder, Kalibari Mela at Sahebabad, Kalisiddha Mela at Saitshala, Purnadham Mela at Austagram, Dayamay Mahautshab at Makimpur.
Main exports Betel leaf, potato.
Access to electricity All the unions of the upazila are under rural electrification net-work. However 42.43% dwellings have access to electricity.
Sources of drinking water Tube-well 95.73%, tap 0.33%, pond 0.92% and others 3.02%. The presence of arsenic has been detected in the shallow tube well water of the upazila.
Sanitation 60.58% (rural 60.02% and urban 89.28%) of dwelling households of the upazila use sanitary latrines and 32.18% (rural 32.77% and urban 2.01%) of dwelling households use non-sanitary latrines; 7.24% of households do not have latrine facilities.
Health centres Upazila health complex 1, satellite clinic 3, clinic 93.
NGO activities brac, asa, proshika. [Md Abdus Sattar]
References Bangladesh Population Census 2001, Bangladesh Bureau of Statistics; Cultural survey report of Brahmanpara Upazila 2007.