Carmichael College, Rangpur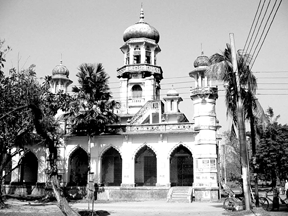 Carmichael College, Rangpur named after Lord carmichael, Governor of Bengal, was established in 1916. Some leading zamindars of rangpur played an important role in its establishment.
They collected Rs 750,000 for the construction of the college complex on 321 acres (121 ha) of land. Dr Watkins, a German citizen, was its founder principal. The college building, 610 feet in length and 60 feet in breadth, is a unique monument of zamindari architecture in Bengal, which reflected a nostalgic attachment of the Bengal aristocracy to Mughal architecture.
Carmichael College was affiliated with calcutta university and was permitted to open Intermediate of Arts and Bachelor of Arts classes in 1917 and Intermediate of Science and Bachelor of Science classes in 1922 and 1925 respectively. Up to 1947, thirteen subjects were taught at the college. After the partition of bengal in 1947, it was affiliated with the university of dhaka and in 1953, with the newly established university of rajshahi.
The government of East Pakistan nationalised the college on 1 July 1963. It remained under Rajshahi University up to 1992 and later, came under the jurisdiction of the national university. At present, it is a postgraduate college offering courses in 15 subjects in the faculties of arts, social science, science and commerce. It has a rich central library and a seminar library for every department. Now the total number of teachers and students of college are 150 and 20,000 respectively. The college premises is consists of conference room, Teachers Club, Employees Club, Canteen, separate common rooms for male and female students, Residence for Principal and Teachers, Dormitories of Students, four academic buildings, Mosque and Shaheed Minar. In addition to the academic activities, the students participate various cultural programme including Debating Society, Rover Scout and Bangladesh National Cadet Core, sports and' cultural competitions. [Muhammad Maniruzzaman]