Castor (bhedenda) a tropical and subtropical shrub, Ricinus communis, a dicot plant under the family Euphorbiaceae. The seed of the plant is known as castor bean, which yields castor oil.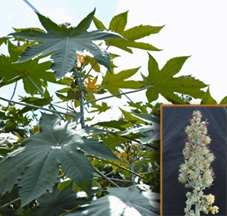 The castor oil plant is a small tree with hollow internodes; its leaves are simple, alternate, with a long (up to 30 cm) petiole. Its flowers appear in spikes and are unisexual; its fruits are prickly capsules, and have 3 seeds in each; the seeds are spotted, and bear at one end a white sponge-like mass known as the caruncle.
March to August is the flowe ring and fruiting time. This plant cannot withstand water logging. Propagation is through seeds. Probably a native of Africa, it is also cultivated in India, China, Mexico, and Brazil. In Bangladesh the plant is found in most districts and are either grown by village dwellers or can be seen as common weed in wastelands. Oil content in endosperm varies from 20 to 50%. Castor oil is used medicinally as a purgative and a laxative and is also used as a lubricant for machinery. The oil has some use in making artificial leather, in the dressing of genuine leather, and also in paint, plastic materials, etc. The oil cake contains the poisonous element Ricin; it should therefore not be given as cattle feed, but can be used as a fertiliser.
Its leaves are sometimes used as fodder, and may be used as a feed of silkworm; some tribals use its leaf paste on their forehead to cure headaches. [Md Abul Hasan]