Chaklapunji is a Neolithic site located near Chandir Mazar bus-stand, approximately 10 kilometres north-west of Chunarughat thana headquarters of Habiganj district. A number of small tilas with scrub and permanent trees are seen in and around the site. A small stream known as the Balu Nadi (sandy river) flows through this area, which ultimately falls into the Shutang River. The stream is active only during the rainy season and it remains dry during the rest of the year.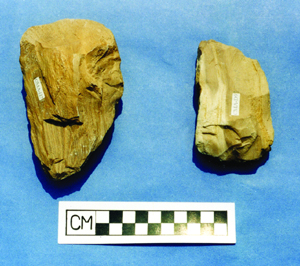 A total of 83 artifacts have been found at the site. All are made of locally available fossil wood (locally called gamai pathar) raw material and these came from the bed of Balu Nadi. Fortunately the artifacts are not rolled. The angularity of fossil-wood blocks and the artifacts of the site suggest that these did not travel from much distance and might have come from nearby hillocks. Of the artifacts, eight are tools. These are a celt, a blade, an unfinished point, a flake point, a side scraper, an end scraper, a side-cum-end scraper and a burin.  
Besides tools, a single semi-fossilised bone of a young bovine was also found in the riverbed. It has oblique cut marks on both sides, which suggests that Neolithic man might have hunted the animal for his subsistence. A piece of carnelian bead, which is finished and spherical in shape, was also recovered from the bank of the Balu Nadi near Chandir Mazar. It is difficult to correlate the bead with Neolithic implements. However, it may provide important clues on prehistoric and protohistoric research of this area in the near future.
Since Neolithic implements of the site did not come from any stratified layer, it is difficult to say when Neolithic people occupied this area. A radiocarbon date of circa 1500 BC is found from the Neolithic site of Tripura State of India. The Neolithic site of Chaklapunji is located approximately 10 kilometres west of Tripura Neolithic site. The raw material and implements of both areas are also similar. Therefore, the Chaklapunji Neolithic site can be placed in circa 1500 BC or a little later. [MM Hoque]
Bibliography TC Sharma, Prehistoric Situation in North-East India, Archaeology of North-Eastern India, New Delhi, 1991, MM Hoque, SMK Ahsan and S Hoque, Prehistory of Chunarughat and Sylhet: A Preliminary Study, Sylhet: History and Heritage, Bangladesh Itihas Samiti, Dhaka,1999.