Chandgaon Thana (chittagong district) area 25.32 sq km, located in between 22°21' and 22°26' north latitudes and in between 91°50' and 91°54' east longitudes. It is bounded by hathazari and raozan upazilas on the north, bakalia thana on the south, boalkhali and Raozan upazilas on the east, kotwali, panchlaish and bayejid bostami thanas on the west.
Population Total 178390; male 96659; female 81731, Muslim 156591, Hindu 17906, Buddhist 468, Christian 3388, indigenous 188 and others 37.
Water bodies Main river: Karnafuli.
Administration Chandgaon Thana was established on 29 November 1978.
Thana
Ward
Mahalla
Population
Area (per sq. km.)
Literacy rate (%)
City
Village
City
Village
3
11
178390
-
7045
62.70
-
Ward
Ward No.
Area (sq. km.)
Population
Literacy rate (%)
Male
Female
Ward No. 04
10.70
41832
35659
66.60
Ward No. 05
10.29
31862
26352
60.30
Ward No. 06
2.41
22965
19720
58.80
Source  Bangladesh Population Census 2001, Bangladesh Bureau of Statistics.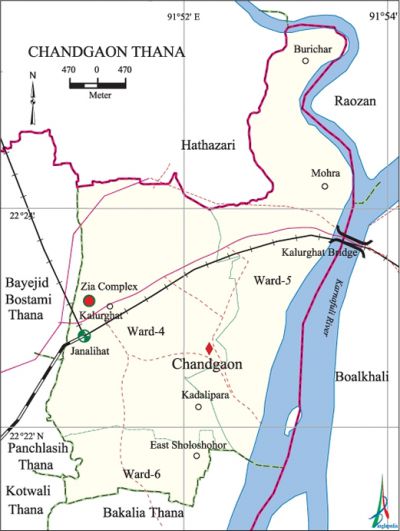 History of the war of liberation On 27 March 1971, Major ziaur rahman declared, on behalf of bangabandhu sheikh mujibur rahman, independence of Bangladesh from the Swadhin Bangla Betar (Radio) Kendra at Kalurghat. In March and April 1971, battles between the Pakistan army and the freedom fighters took place in order to take control of the Swadhin Bangla Betar Kendra.
Marks of the War of Liberation Swadhinata Tower.
Religious institutions Chowdhury Mosque (Khwaja Road).
Literacy rate and Educational institutions Average literacy 62.70%; male 66.30%, female 58.30%. Noted educational institutions: Ispahani School and College, Chowdhury School.
Main establishments Shahid Zia Memorial Complex, Mohona Water Purifying Project, administrative building of Water Development Board, Chandgaon Residential Area, Shahid Zia Smriti Complex and Bahaddar Hat Bus Terminal.
Main sources of income Agriculture 2.45%, non-agricultural labour 1.51%, industry 3.72%, commerce 18.69%, transport & communication 8.08%, construction 4.76%, religious service 0.21%, employment 35.50%, rent & remittance 7.70%' and others 17.38%.
Ownership of agricultural land Landowner 24.45%, landless 75.55%.
Main crops Paddy, sugarcane.
Main fruits Guava, coconut.
Noted manufactories Kalurghat is one of the most notable industrially important areas of Bangladesh. Among the manufactories the most notable are Desh Garments, Usmania Glass Sheet Factory, different factories of Aramit Group, Elias Brothers, Unilever Bangladesh Ltd.
Noted hats and bazars City Corporation Bazar, Kazir Hat Bazar and Mohora Bazar.
''Main exports Corrugated iron, glass, cement.
Access to electricity All the wards of the thana are under electrification net-work; however 85.14% dwelling households have access to electricity.
Sources of drinking water Tube-well 47.71%, pond 1.93%, tap 47.13% and others 3.23%.
Sanitation 77.08% of dwelling households use sanitary latrines and 19.50% of dwelling households use non-sanitary latrines; 3.42% of dwelling houses do not have latrines facilities.
NGO activities brac, asa, proshika. [Golam Kibria Bhuiyan]
References Bangladesh Population Census 2001, Bangladesh Bureau of Statistics.