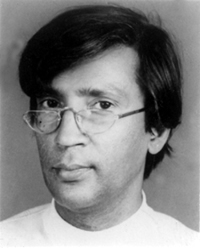 Chaudhury, Rashid (1932-1986) artist, was born on 1 April 1932 in the village of Ratandiya, faridpur, son of Khan Bahadur Yusuf Hossain Chaudhury.
Rashid Chaudhury studied at the Government Arts and Crafts College of Dhaka (1950-54), and joined the college as a teacher. He went to Madrid on a scholarship and studied at the Central Escuela des Belles Artes de San Fernando, where he came in contact with western art. For a year (1956-57), he studied classical portrait drawing and sculpture. Before returning home, he also visited museums in Paris and London. In 1960, he obtained a French Government scholarship to study at Ecole National des Beaux Arts and at the Julien Rivierra Studio (1960-64) where he worked with Marc Chagall and Jean Lurcat. While these western artists influenced Rashid, his Bengali heritage led him to explore the possibilities of jute in art. Working initially with jute and cotton, and then with jute, cotton and silk, he transformed the traditional loom to produce a sophisticated tapestry of very high quality.
Rashid Chaudhury also wrote poems and did some translations from the French. During the 1960s, along with some 'angry young men'-poets, engineers and architects, he founded a group called Na (No) which published a literary little magazine. From 1969, he became involved in organising the post-graduate Department of Fine Arts at the university of chittagong. He was planning to create an artists' campus at sonargaon (near Dhaka) and a tapestry village at Xreepur, but died before these could be completed.
He held many exhibitions at home and abroad. The last one, a solo retrospective show, was held in 1985 at Dhaka. Among his masterpieces are Reaping Paddy (oil, 1953), Chakma Girl (drawing, 1957), Nature (oil, 1960), The Magician (tapestry, 1970), Six Seasons (fresco/oil/tapestry, 1967), Rendezvous (gouache, 1968), Romance (tapestry, 1970), Sonabhanu (tapexry, 1970), Revolt in Bengal (gouache, 1971), My Golden Bengal (tapestry, 1975), Revolting Time (oil, 1980), Adam (tapestry, 1982), Chitrabgada (oil, 1983), Kal-Baishakhi (tapestry, 1985). Rashid Chaudhury died on 12 December 1986. [Mahmud Shah Qureshi]