Chhayanaut a cultural organisation devoted to the practice and preservation of the cultural heritage of the country, especially the culture of music and dance. Set up in 1961, the Chhayanaut encountered many obstacles from government of the time, because music and dance, especially of secular genre, were not much in consistence with the ideology of the Pakistani regime. For example, Rabindra-music was particularly discouraged. Under these circumstances, Chhayanaut came forward to practise Rabindra music and Rabindra-thought in spite of many official and unofficial obstacles. The celebration of Tagore's birth centenary was the immediate occasion to escalate the debate about the status of Rabindranath in Pakistan. Most intellectuals and cultural activists vehemently opposed the government move to undermine the importance of Tagore. They took initiative to celebrate the centennial birth anniversary of rabindranath tagore in due honour and it was duly observed. This was the occasion when a number of cultural and literary activists resolved to set up an organisation for promoting Babgali culture. Sufia Kamal was the founder president of the organisation and Farida Hasan, secretary. Mrs Mohiuddin, Saifuddin Ahmed, Mokhlesur Rahman, Ahmedur Rahman, Wahidul Haq, Sanjida Khatun, Kamal Lohani were members. Subsequently, Kamal Lohani, Zahedul Karim, Saifudaula and Iffat Ara Khan acted as secretary and many others social workers and members. The outcome was the eshtablishment of the Chhayanaut at the end of 1961.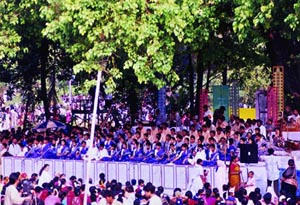 Before the independence, Chhayanaut passed through a hard time both spatially and financially. It moved from place to place for its office. For example, bangla academy, English Preparatory School (presently, udayan|udayan uchcha madhyamik bidyalaya|udayan), Azimpur Kindergarten (Presently, agrani girl's school and college) and Lake Circus High School at Kalabagan. After the independence, it was located at the University Laboratory School at the university of dhaka for three decades.
Eventually, the institution got a permanent place for its office at Dhanmandi. The Government of Bangladesh allotted one bigha of land at Dhanmondi in 1999 in recognition of it's significant contributions for last four decades to the Bangali cultural development. The Chhayanaut Snaskriti Bhahan was built in that land and has been serving a great deal flourishing the bangali culture. The building complex of Chhayanaut was designed by Bashirul Haq, a prominent architect of Bangladesh. Apart from thirty class rooms, there is an auditorium entitled by 'Romesh Chunder Dutt Memorial Auditorium', 'music-cultural library', 'Poet Shamsur Rahman Library', 'Sanskriti Samvar' (audio visual center and recording studio) and a modern' auditorium of 300 seats.
Chhayanaut's first public function, Purano Ganer Asar (Programme of old songs), was held at Dhaka under the direction of abdul ahad. Subsequently 'Shrotar Asar' (a platform of the listeners) program based on Bangali traditional music at the very informal surroundings. Chhayanaut Sangit Vidyayatan was established on pahela baishakh, the first day of the Bangla year, 1963. Chhayanaut has been contributing not only to the cultivation and development of music. It also became a hub of cultural activities of the country. Virtually, the Chhayanaut operates unofficially as the apex body in the realm of music and dance.'
The main programs of Chhayanaut around the year include Nababarsha or' Bangla New Year under the Banyan tree of Ramna, various National Days,' Rabindra-Nazrul festivals including their birth and death anniversaries, seasonal programs, such as (The Rain, The Autumn, The Spring) on folklore, folk music festival, drama festival, music of Deshghar, Pure-music festival, dance ceremony and monthly selected speeches by experts. Regular activities include maintaining a music centre, 'Nalanda'- a school for cultural and general education; 'Shikad'- for introducing Bangali culture to children; 'Surer Jadu' (magic of melody) and 'Ranger Jadu' (magic of illusion); activities for autistic babies; 'Bhasar Allap'- meeting (Baithak) for awakening older people about Bangla language and literature; 'Gurumukhee Bidya Shikkha'-from Shuddha Sangeet Department; 'Bangladesher Hridoy Hote'- a quarterly Bangla journal based on literature and culture. Behind the origin and development of this great cultural centre, two great minds were at work for their whole life virtually. They are Professor Sanjida Khatun and Wahidul Haq. [Mohammad Abdul Hye]