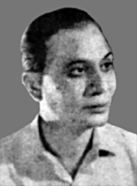 Ahad, Abdul (1920-1994) renowned exponent of tagore songs, lyricist and music director, was born in Rajshahi town. His paternal home was Fukurhati in bhanga upazila, faridpur. His father, Abdus Samad Khan, and maternal grandfather, Khan Bahadur Mohammad Sulaiman, were employees of the Department of Education.
Abdul Ahad showed great interest in music from early life. After matriculating in 1934, he was admitted to City College, Calcutta. While at college he took lessons in classical music from Ustad Bali and Ustad Manju Sahib. He performed thungri on Radio Calcutta. He took part in the 1936 All-Bengal Music Competition and came first in Thungri and ghazal. In 1938 he made a mark by becoming the first Bengali Muslim to take admission in santiniketan. At that time his role in music was very courageous, Because that time music was not in practice in Muslim society of this country as usual.
In Santiniketan program he sang the song Diner por din je galo and was blessed by Rabindranath Tagore. There his classmate was Kanika Bandyopadhyay, later who became one of the most famous Rabindrasangeet singer. Santidev Ghosh and Sailojaranjan Majumder were his Ustad. Besides, while he was in Santiniketan he was the beloved person of Rabindranath Tagore.
After spending four years at Santiniketan, he joined His Master's Voice in Calcutta in 1941 as a music teacher. Famous artistes like pankaj kumar mallick and Hemanta Kumar Mukhopadhyay recorded Tagore songs under his direction. He was also very popular as a music director in feature films such as Duhkhe Jader Jiban Gada, Asiya, Nabarun and Dur Hyay Sukh Ka Gaon.
In 1947, after partition, Abdul Ahad joined Radio Pakistan, Dhaka as a producer. The partition had created a void in the field of music in East Pakistan as many Hindu artistes had migrated.
This vacuum was somewhat filled by the able role played by Abdul Ahad who inducted many fresh music talents. For about two decades, he produced music programmes on Radio Pakistan, Dhaka and thus helped organise and develop the music world of East Pakistan. He was also a talented composer and composed music for a large number of Bangla songs as well as Urdu ghazals.
Abdul Ahad published a number of books on music. Naba Diganter Gan is a collection of his compositions, while Sindhu Desher Sangit is a collection of songs in translation. He also wrote an account of his visit to China in Gana Chine Chabbish Din and an autobiography, Asa Jawar Pather Dhare.
The government of Pakistan awarded him Tamgha-i-Imtiaz in 1962 and Sitara-i-Imtiaz in 1969 for his contribution to music. The Bangladesh government awarded him Swadhinata Dibas Award in 1978. [Mobarak Hossain Khan]