Chhota Katra, Dhaka is situated about around 183 meter east of the bara katra at hakim habibur rahman lane on the bank of the river Buriganga in Mughal (old) Dhaka.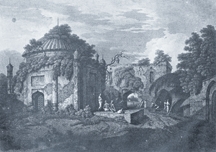 The Katra is rectangular in plan, 101.20m x 92.05m externally and 81.07m x 69.19m internally. The thickness of the outer walls is 0.91 to 1.00m and the maximum thickness of the bastion walls is 1.22m. It is similar in plan to that of the Bara Katra, but is smaller in size. There are two gateways, one on the north and the other on the south. The southern one is the main entrance. Both the gateways, though much altered recently, are still in situ. In the two outer corners of the south wall of the structure there are two octagonal towers. The structures around the open courtyard have undergone much renovation, reconstruction and repair. Many modern extensions were also added to the original building. The three storeyed gateway on the river side has assumed some colonial features. The triple windows and the lofty angle towers reflect the colonial influence during subsequent restoration.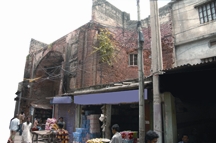 The Chhota Katra is believed to have been built by shaista khan in about 1664 AD. It is also said that the Katra was constructed to accommodate some officials and also a part of Shaista Khan's expanding family.
It is evident that the structure has lost much of its original look through indiscriminate alterations and unworthy restoration, though they have given it some durability. The two Katras of Dhaka have not been taken under the protection of the Department of Archaeology, and the specimens of this type of architecture in Bangladesh are on the verge of total extinction. [Ayesha Begum]
See also katra.