Choudhury, Humayun Rasheed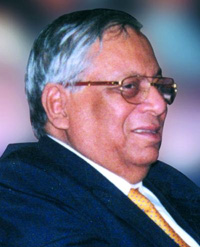 Choudhury, Humayun Rasheed (1928-2001) a diplomat, Speaker of jatiya sangsad. Humayun Rashid Choudhury was born in Sylhet on 11 November 1928. After graduation from Aligarh Muslim University in 1947, Humayun Rasheed studied for the English Bar and became a member of the Inner Temple in London. He obtained a diploma in international affairs from the London Institute of World Affairs. Humayun Rasheed joined the Pakistan Foreign Service in 1953. He eventually graduated from the Fletcher School of Law and Diplomacy in Massachusetts.
Humayun Rasheed Choudhury joined the Bangladesh war of liberation in 1971 and served as chief of the Bangladesh mission in New Delhi. He conducted negotiations with different countries for obtaining recognition for independent and sovereign Bangladesh. Earlier he served as a diplomat in Rome, Baghdad, Paris, Lisbon and Jakarta. He served as ambassador of Bangladesh to the Federal Republic of Germany (1972-76), the Kingdom of Saudi Arabia, and the United States.
Humayan Rasheed Choudhury was a member of the cabinet of President hussain muhammad ershad (1985-86) in charge of the ministry of Foreign Affairs. He was elected president of the 41st session of the UN General Assembly.
He was elected a member of the Jatiya Sangsad in 1986 and in 1988. He was again elected member of the Jatiya Sangsad in 1996 as a nominee of awami league and was elected Speaker of the Jatiya Sangsad. In 1984, the American University of William and Mary, Virginia, awarded him the Mahatma Gandhi Peace Prize in recognition of his contribution to world peace. He was a member of the International Institute of Strategic Studies, London. He died in Dhaka on 10 July 2001. [Enamul Haq]