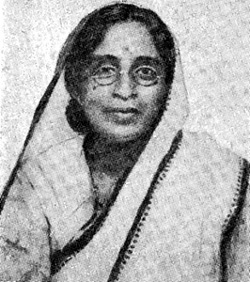 Chowdhurani, Indira Devi (1873-1960) singer, writer, translator. Daughter of satyendranath tagore and niece of rabindranath tagore, was born on 29 December 1873 at Bijapur in South India, the working place of her father. Her mother, Jvanadanandini. Indira Devi was inspired by Rabindranath. She was popularly known as 'Bibidi'.
Indira Devi studied at the Auckland House in Simla and Loretta House in Kolkata. She passed the Entrance examination in 1887 and then the FA. She won the Padmavati gold medal, standing first among women in the BA examination of calcutta university in 1892. She obtained her diploma in music from the Trinity College of Music and received lessons in classical music (vocal) from Badridas Mukul. She married pramatha chowdhury in 1899.
Indira Devi started translating from an early age. She published the Bangla translations of Ruskin's writings in Balak, edited by Jnanadanandini. Then she learned French and translated a number of French books into Bangla.
She also published the English translations of a number of poems, stories and essays of Rabindranath, including his Japan Jatrir Diary. Subsequently, many of her writings on music and literature were published in Bamabodhini, Babgalaksmi, sadhana, Parichay, sabujpatra. Her article 'Narir Ukti' reveals her opinions about the good and bad qualities of Bangali women. Indira Devi was adept in singing tagore songs and in playing the piano, violin, and sitar. One of her most important contributions is writing the scores (swaralipi) of two hundred Tagore songs, including 'Mayar Khela', 'Bhanusingher Padavali', 'Kala Mrigaya'. She also edited books on Tagore songs. She was joint editor of the Ananda Sangeet, mouthpiece of the Women's Sabgeet Samgha. She wrote Hindu Sangeet jointly`` with her husband. Some of her songs, along with their musical scores, were published in the Surabgama. After the death of Rabindranath, she settled permanently at santiniketan and taught Tagore songs at Xantiniketan Sangeet Bhavan.
At Santiniketan, Indira Devi established the Alapani Mahila Samiti and published its mouthpiece, Gharoya. She served as president of a number of women's welfare organisations such as the Bengal Women's Education League, All India Women Conference, Hiranmayi Vidhava Ashram. In 1956 she became Vice-Chancellor of Vixva-Bharati University.
Among her writings are Shruti Smriti, Rabindra Sangeete Tribeni Sabgam (1954), Rabindra Smriti (5 vols, 1959). She also edited a number of books including Narir Ukti (1920), Banglar Stri-Achar (1956), Smriti Katha, Puratani (1957) and Gitapavchashati. She was awarded the Bhuvanmohini gold medal by Calcutta University in 1944, the Deshikottam by Visva-Bharati Universityin 1957 and the first Rabindra Award by the Rabindra Bharati Samiti in 1959. Indira Devi died on 12 August 1960. [Dulal Sarker]