Chowdhury, Habibullah Bahar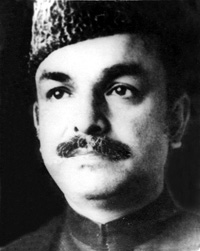 Chowdhury, Habibullah Bahar (1906-1966) politician and writer. He was born at village Guthuma in Feni district in 1906. He passed Matriculation in 1922 from Chittagong Municipal School and ISc from Chittagong College in 1924. At this time he took active part in student politics. Habibullah Bahar graduated from Calcutta Islamia College in 1928. He played football for Calcutta Mohammedan Sporting Club and later became its captain. Under his leadership, the Calcutta Mohammedan Sporting Club was elevated from its status of a 'B' team to the 'A' league in 1931.
In 1932, Habibullah Bahar passed the Indian Police Service competitive examination, but was not taken into the service because of his alleged involvement with revolutionary movement of surya sen. In 1933, Chowdhury took up journalism and published the literary journal Bulbul. Habibullah Bahar actively joined politics as an activist of the Bengal Provincial muslim league, and was elected member of its executive committee in 1937. The same year he was elected vice-president of Sirajuddaula Memorial Committee which played a vital role in the removal of the Holwell Monument. He was one of the pioneers in floating the East Pakistan Renaissance Society in 1943. In 1944, he was elected publicity secretary of Bengal Provincial Muslim League. He was joint secretary of Bengal Literary Society between  1945 and 1946.
Habibullah Bahar played an important role in Pakistan Movement. He was elected member of the Bengal Legislative Assembly from the Parshuram constituency of Feni district. He accompanied Mahatma Ghandhi in his visit to Noakhali following the communal violence of 1947, and participated in Sylhet Referendum. He was a member of the first Muslim League cabinet in East Pakistan in charge of Ministry of Health. He earned fame in this capacity for his successful campaign for the eradication of mosquitoes that he directed. Habibullah Bahar was the chairman of the reception committee of the first Pakistan literary convention held in Dhaka in 1948. He played a key role in the establishment of the East Pakistan Sports Federation in 1951, and became its president.
In 1953 Chowdhury had heart problems, and hence had to resign from the ministry. Later he retired from politics and devoted himself to literary pursuits and social work. Some of his Bangla publications include Pakistan, Mohammad Ali Jinnah, Omar Faruq, and Ameer Ali. He died of cardiac arrest on 15 April 1966. [Rafiqul Akbar]