Comilla Adarsha Sadar Upazila
Comilla Adarsha Sadar Upazila (comilla district) area 187.71 sq km, located in between 23°24' and 23°31' north latitudes and in between 91°03' and 91°15' east longitudes. It is bounded by burichang upazila and tripura state of India on the north, comilla sadar dakshin upazila on the south, Tripura state of India on the east, chandina and barura upazilas on the west.
Population Total 517860; male 272437, female 245423; Muslim 483277, Hindu 33426, Buddhist 198, Christian 429 and others 503.
Water bodies Main river: gumti.
Administration Comilla Sadar Upazila, which was established in 1983, was reconstituted and renamed as Comilla Adarsha' Sadar Upazila in 2005.
Upazila
Municipality
Union
Mouza
Village
Population
Density (per sq km)
Literacy rate (%)
Urban
Rural
Urban
Rural

1

7

147

206

278238

239622

2759

63.26

55.11
Municipality

Area (sq km)

ward

Mahalla

Population

Density (per sq km)

Literacy rate (%)

11.47

18

48

166519

14518

69.04
Upazila Town

Area (sq km)

Mouza

Population

Density (per sq km)

Literacy rate (%)

47.18

44

111719

2368

57.49
Union
Name of union and GO code
Area (acre)
Population
Literacy rate (%)
Male
Female

Amratali 22

5578

17267

17021

56.10

Uttar Durgapur 94

2214

20882

19251

50.82

Uttar Kalir Bazar

3114

10842

10535

50.77

Jagannathpur 65

8807

16700

13685

67.72

Dakshin Kalir Bazar

4638

20888

20060

49.25

Dakshin Durgapur 51

2253

17556

16237

56.30

Panchthubi 90

5831

19851

18847

54.87
Source  Bangladesh Population Census 2001, Bangladesh Bureau of Statistics.
Archaeological heritage and relics Mainamati Museum, dharmasagar Dighi, Ananda Vihara, Jagannath Temple, Ranir Kuthi, Town Hall, Memorial monument of second World War, Shah Suja Mosque, Birchandra Library, Rajrajeshwari Kalibari.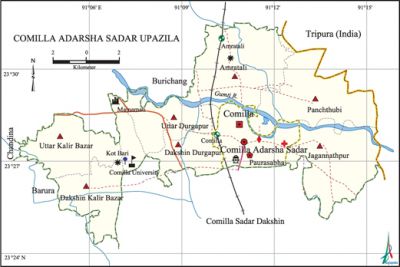 Marks of War of Liberation Memorial monument 1 (in front of Comilla Victoria College).
Literacy rate and educational institutions Average literacy 66.05%; male 68.54%, female 63.02%. Educational institutions: medical college 1, teachers' training centre 1, college 11, technical college 8, secondary school 74, primary school 101, madrasa 15. Noted educational institutions: Comilla Victoria Government College (1899), Comilla Government College, Comilla Government Mahila College, Comilla Ishwar Pathshala (1914), Rammala Student Hostel (1916), Nibedita Primary School (1919).
Newspapers and periodicals Dailies 3, weeklies 7.
Cultural organisations Press club 1, library 5, museum 1, cinema hall 4, playground 51, stadium 1, auditorium 1, cultural group 67.
Noted establishments' Comilla Cantonment, Rice Research Institute, Agricultural Research Institute, bangladesh academy for rural development (BARD).
Tourist spot Shalban Vihara, Mainamati Museum, homestead of Shachin Dev Barman, homestead of Dhirendranath Datta.
Main sources of income Agriculture 18.67%, non-agricultural labourer 2.56%, industry 2.05%, commerce 23.57%, transport and communication 9.73%, service 22.17%, construction 3.14%, religious service 0.20%, rent and remittance 3.21% and others 14.70%.
Ownership of agricultural land Landowner 46.69%, landless 53.31%.
Main crops Paddy, wheat, potato, vegetables.
Extinct or nearly extinct crops Jute, sunflower, ground nut, kaun, linseed, arahar.
Main fruits Mango, coconut, banana, jackfruit.
Fisheries, dairies and poultries Fishery 71, artificial breeding centre 1, livestock development centre 1, nursery 21.
Communication facilities Pucca road 306.50 km, mud road 253.50, waterway 12 nautical miles, railway 11km, railway' station 1.
Extinct or nearly extinct traditional transport Palanquin, horse carriage and bullock cart.
Noted manufactories Textile mill, jute mill, saw mill, shoe factory.
Cottage industries Weaving, goldsmith, tailoring, nakshi kantha, bamboo work, cane work, wood work, tailoring.
Hats, bazars and fairs Hats, bazars and fairs are 11, most noted of which are Chawk Bazar, New Market, Comilla Town Hall Mela and Kalibari Mela.
Main exports Sweet meat including rasmalai, flour, vegetables.
Access to electricity All the wards and unions of the upazila are under rural electrification net-work; however 85.68% dwelling households have access to electricity.
Sources of drinking water Tube well 82.45%, pond 0.52%, tap 14.42% and others 2.61%.
Sanitation 77.17% of dwelling households of the upazila use sanitary latrines and 17.86% of dwelling households use non-sanitary latrines; 4.97% of households do not have latrine facilities.
Health centres Upazila health centre 1, health and' family welfare centre 3, hospital 44, clinic 14, family planning centre 6.
NGO activities brac, asa. [Gawranga Chandra Dhar]
References Bangladesh Population Census 2001, Bangladesh Bureau of Statistics; Cultural survey report of Comilla Adarsha Sadar Upazila 2007.