Cox's Bazar Sadar Upazila
Cox's Bazar Sadar Upazila (cox's bazar district) area 228.23 sq km, located in between 21°24' and 21°36' north latitudes and in between 91°59' and 92°08' east longitudes. It is bounded by chakaria upazila on the north, bay of bengal and ramu upazila on the south, Ramu upazila on the east, maheshkhali upazila, Maheshkhali channel and Bay of Bengal on the west.
Population Total 348075; male 186151, female 161924; Muslim 314563, Hindu 27039, Buddhist 199, Christian 6244 and others 30.
Water bodies Main river: bakkhali.
Administration Cox's Bazar Thana was established in 1854 and it was turn into a town committee in 1959. The town committee was again replaced by municipality in 1972. It was turned into an upazila in 1983. The municipality was elevated to B-grade from C-grade in 1989.
Upazila
Municipality
Union
Mouza
Village
Population
Density (per sq km)
Literacy rate (%)
Urban
Rural
Urban
Rural

1

10

18

163

97898

250177

1525

54.68

33.48
Municipality

Area
(sq km)

Ward

Mahalla

Population

Density (per sq km)

Literacy rate (%)

6.85

09

27

51918

7579

67.48
Upazila Town

Area (sq km)

Mouza

Population

Density
(per sq km)

Literacy rate (%)

16.51

1

45980

2785

38.77
Union
Name of union and GO code
Area (acre)
Population
Literacy rate (%)
Male
Female

Islampur 38

2582

7727

7031

30.63

Islamabad 42

2726

13199

12233

32.10

Idgaon 35

13007

14058

12892

29.57

Khurushkul 59

5848

20398

18217

29.92

Chaufaldandi 11

3636

12918

12096

27.04

Jalalabad 45

3813

8344

7046

44.73

Jhilwanja 47

7195

42969

36234

43.89

Patali Machhuakhali 71

6723

15889

14873

26.92

Pokkhali 83

7441

10396

9385

34.25

Bharuakhali 10

3787

10389

9863

28.12
Source Bangladesh Population Census 2001, Bangladesh Bureau of Statistics.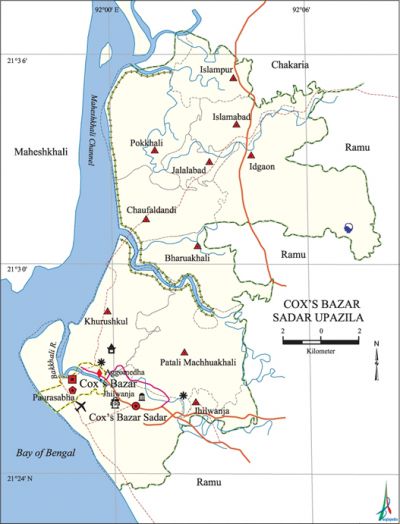 Archaeological heritage and relics Cox's Bazar Buddhist Pagoda, Agvamedha Buddhist Keyang, single-domed mosque in Jhilwanja union (twelfth century).
History of the War of Liberation During the war of liberation in 1971, the Pak-soldiers killed a number of people including the veteran lawyer Jnanendralal Chowdhury at a place behind the old rest house in the town. They also killed two freedom fighters by gunshot at Badar Mokam area.
Marks of the War of Liberation Memorial monument 1 (Shaheed memorial monument behind the old rest house of the town).
Religious institutions Mosque 296, temple 21, pagoda 17, church 5, tomb 5. Noted religious institutions: Cox's Bazar Central Jami Masjid, Badar Mokam Jami Masjid, Bara Bazar Jami Masjid, Idgaon Bazar Central Jami Mosque, Cox's Bazar Kalibari Mandir, Cox's Bazar Saraswati-bari Mandir, tombs of Shah Alauddin, Maulana Nurul Haque (Dula Fakir), Petan Shah, Kalu Shah, Mozaher Shah.
Literacy rate and educational institutions Average literacy 39.7%; male 44%, female 34.7%. Noted educational institutions: Cox's Bazar Government College (1962), Cox's Bazar Government High School (1874), Idgaon Ideal High School (1928), Maizpara Government Primary School (1930), Cox's Bazar Hasemiah Alia Madrasa (1952).
Newspapers and periodicals Daily: Saikat, Cox's Bazar, Ajker Desh-bidesh, Dainandin, Maer Desh; weekly: Swadesh Bani; defunct: Daily Himchhari, Daily Bakkhali, Weekly Cox's Bazar, Weekly Cox's Bazar Barta, Weekly Sagar-bani, Weekly Sagar-kantha.
Cultural organisations Club 21, library 2, literary society 1, women's organisation 2, theatre group 1, cinema hall 3, playground 10.
Tourist spots and special attractions The longest sea beach of the world is located at Cox's Bazar. The green surroundings with the mangrove forests on the beach is also notable. Most of the areas of the upazila are covered with hills and tilas. There are different types of valuable trees including Shal, Mehogani, Garjan, Rubber and rare orchid in the hill areas. Besides, the rudder station is located on the hill top adjacent to the Circuit House. Since Cox's Bazar is a great tourist resort various establishments have developed here including six big hotels of which a three star hotel has been established on government initiatives, 30 medium size and 50 semi-medium size hotels, Jhenuk Market and the Burmese Market where luxury goods coming from China, Burma, Thailand through the border.
Main sources of income Agriculture 34.01%, non-agricultural labourer 5.97%, commerce 23.82%, transport and communication 2.94%, service 10.07%, construction 2.11%, religious service 0.30%, rent and remittance 4.95% and others 15.83%.
Ownership of agricultural land Landowner 31.68%, landless 68.32%; agricultural landowner: urban 36.27% and rural 29.88%.
Main crops Paddy, potato, betel leaf, vegetables.
Extinct or nearly extinct crops Sweet potato, sugarcane, kaun, arahar.
Main fruits Mango, jackfruit, papaya, banana, pineapple, betel nut.
Fisheries, dairies and poultries Fishery 250, dairy 24, poultry 197, shrimp cultivation 226, shrimp hatchery 20.
Communication facilities Roads: pucca 60 km, semi-pucca 15 km, mud road 170 km.
Extinct or nearly extinct traditional transport Palanquin.
Noted manufactories Garments industry, fish processing industry, fish feed mill, salt mill, ice factory, flour mill, rice mill, saw mill, printing press, welding factory.
Cottage industries Goldsmith, blacksmith, weaving, potteries, conch industry, wood work, bamboo work.
Hats, bazars and fairs Hats and bazars are 8, fairs 3, most noted of which are Bangla Bazar, Time Bazar, Chaufaldandi Bazar, Idgaon Bazar, Balikhela Mela and Baishakhi Mela.
Main exports Betel leaf, betel nut, jackfruit, banana, papaya, pineapple, timber, frozen shrimp, dry fish.
Access to electricity All the wards and unions of the upazila are under rural electrification net-work. However 40.05% dwellings have access to electricity.
Natural resources 'Zircon, ilmenite, kyanite, brutile, magnetite, monazite.
Sources of drinking water Tube-well 90.12%, pond 0.63%, tap 4.14% and others 5.11%.
Sanitation '41.95% (rural 35.10% and urban 59.46%) of dwelling households of the upazila use sanitary latrines and 43.12% (rural 47.20% and urban 32.67%) of dwelling households use non-sanitary latrines; 14.93% of households do not have latrine facilities.
Health centres Hospital 1, upazila health complex 1, maternity centre 1, TB clinic 1, family planning centre 1.
NGO activities Gana Swasthya Kendra, brac, caritas, asa, Ananda, proshika, Bangla-German Sampriti, World Vision, MSF (Holand). [Badiul Alam]
References Bangladesh Population Census 2001, Bangladesh Bureau of Statistics; Cultural survey report of Cox's Bazar Sadar Upazila 2007.