Dakshinkhan Thana (Dhaka metropolitan) area 11.08 sq km, located in between 23°50' and 23°53' north latitudes and in between 90°24' and 90°27' east longitudes. It is bounded by gazipur sadar upazila on the north, khilkhet thana on the south, uttarkhan thana on the east and Uttra and bimanbandar thanas on the west.
Population 177760; male 99743, female 78017; Muslim 169813, Hindu 6455, Buddhist 921, Christian 296 and others 275.
Administration Dakshinkhan Thana was formed in 2006. The Thana was named after the Dakshinkhan Union.
Thana
Ward and Union
Mahalla
Population
Density (per sq km)
Literacy rate (%)
Urban
Rural
Urban
Rural
1 (part)
6
-
177760
16043
-
68.87
Ward and Union
Ward and Union
Area (sq km)
Population
Literacy rate (%)
Male
Female
Dakshinkhan Union (part) 38
11.08
99743
78017
68.87
Source  Bangladesh Population Census 2001, Bangladesh Bureau of Statistics.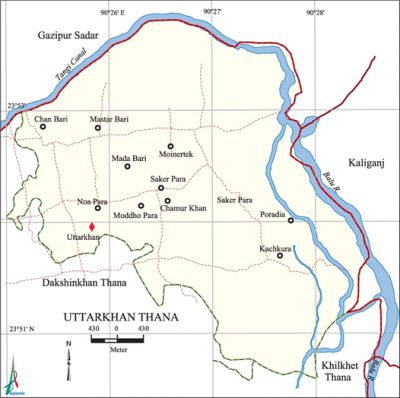 Religious institutions Mosque 135, Church 1.
Literacy rate and educational institutions Average literacy 68.87%; male 73.57%, female 63.06%. Educational institutions: School and college 69, madrasa 23. Noted educational institutions: Anwara Model Degree College, Dakshinkhan Girls' High School.
Cultural organisations Community centre 1, playground 3.
Main sources of income Agriculture 2.06%, non-agricultural labourer 2.95%, industry 1.85%, commerce 22.89%, construction 6.58%, transport 6.74%, service 39.26%, religious service 0.15%, rent and remittance 3.24% and others 14.28%.
Ownership of agricultural land Landowner 50.96%, landless 49.04%.
Main crops Paddy, vegetables.
Extinct or nearly extinct crops Jute, kaun, pulse.
Main fruits Mango, jackfruit, coconut, blackberry, guava.
Fisheries, dairies and poultries Fishery 100, diary 5, poultry 10.
Communication facilities Total road: 24.77 km.'
Noted Manufactories Total number of manufactories 40.
Cottage industries Tailoring, goldsmith, blacksmith, bamboo and cane work, wood work.
Hats, bazars and shopping centre Bazar 8, shopping centre 50, most noted of which is Dobadia Bazar.
Access to electricity All the unions of the thana are under electrification net-work. However 95.15% of the dwelling households have access to electricity.
Sources of drinking water Tap 44.73%, tube well 53.46%, pond 0.10% and others 1.71%.
Sanitation 87.23% of dwelling households use sanitary latrines and 11.80% of dwelling households use non-sanitary latrines; 0.97% of households do not have sanitation facilities.
Main exports Ready made garments.
Health centres 5.
NGO activities Operationally important NGOs are brac, asa. [Sharif Khurshid Alam]
References Bangladesh Population Census 2001, Bangladesh Bureau of Statistics; Field report of Dakshinkhan Thana 2008.