Dariyapur Mosque stands in the village of Dariyapur, about three miles southwest of the pirganj upazila headquarters in Rangpur district. Constructed by a nobleman in 1717-18 AD, the building stands on the western side of a large tank and is enclosed by an outer wall with a gateway in the east. The mosque was seriously damaged in the earthquake of 1897. The four corner towers fell down and serious cracks developed in the domes. Consequently the local people repaired the building when the corner towers were omitted. In the recent past the building has been thoroughly restored and as a result many of the original features have disappeared.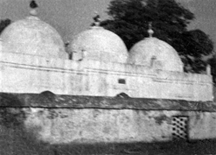 A rectangular building in the usual late Mughal fashion, the mosque is provided with three arched doorways in the east. Of them the central doorway is bigger and shows a projected fronton. Each of the side walls is pierced with an arched window.
The qibla wall is internally recessed with three semi-octagonal arched mihrabs, which are contained within rectangular frames topped by a frieze of blind merlons. Like the central doorway the central mihrab had originally an outward rectangular projection, traces of which still remain. Both these projections of the central doorway and mihrab were originally flanked with ornamental turrets, a common architectural feature of the time.
The interior of the mosque is divided into three equal square bays by two east-west wide arches springing from brick pilasters. Each of the bays, measuring 3.73m square, is covered with a hemispherical dome on an octagonal drum. The upper angles, just below the drums of the domes, are filled with beautiful Bengali pendentives.
The whole building, both inside and outside is now plastered with modern cement. All the domes are crowned with the usual lotus and kalasa finials. The horizontal parapet is faced with a row of blind merlons. To the right and left of the mihrabs are a pair of rectangular panels decorated with small trees with flowers. Above the rectangular frame of the central mihrab there is a shallow rectangular panel, flanked on either side by rosettes. All these ornamental motifs appear to be original and are executed in stucco. [MA Bari]