Pirganj Upazila (Rangpur District)
Pirganj Upazila (rangpur district) area 409.37 sq km, located in between 25°18' and 25°31' north latitudes and in between 89°08' and 89°25' east longitudes. It is bounded by mithapukur upazila on the north, palashbari, ghoraghat and nawabganj sadar (dinajpur) upazilas on the south, sadullapur upazila on the east, Mithapukur, Nawabganj Sadar (Dinajpur) and Ghoraghat upazilas on the west.
Population Total 345593; male 176025, female 169568; Muslim 317841, Hindu 22498, Buddhist 1869, Christian 454 and others 2931.
Water bodies Main river: karatoya, Jamuneshwari, Akhira;' Pirganj is called the upazila of beel.
Administration Pirganj Thana, now an upazila, was formed in 1910.
Upazila
Municipality
Union
Mouza
Village
Population
Density (per sq km)
Literacy rate (%)
Urban
Rural
Urban
Rural

-

15

308

333

12141

333452

844

52.63

38.56
Upazila Town

Area (sq km)

Mouza

Population

Density (per sq km)

Literacy rate (%)

6.24

6

12141

1946

52.63
Union
Name of union and GO code
Area (acre)
Population
Literacy rate (%)
Male
Female




Kabilpur 37

7506

13586

13012

34.43

Kumedpur 44

5806

10328

10376

34.78

Chatra 31

8543

11996

11417

38.01

Chaitrakul 25

7470

10201

9882

35.72

Tukuria 95

6665

9216

8427

33.78

Panchgachha 63

5721

11409

11348

43.75

Pirganj 69

5895

16016

15357

44.79

Bara Alampur 06

7960

9467

8910

34.75

Bara Dargah 12

5676

12773

12375

41.11

Bhendabari 18

6196

9873

9487

43.77

Madankhali 50

6686

10684

10067

39.08

Mithapur 56

6786

13358

13075

38.68

Ramnathpur 82

8345

14918

14414

39.31

Roypur 75

5729

10439

9936

42.33

Shanerhat 88

6461

11761

11485

38.07
Source Bangladesh Population Census 2001, Bangladesh Bureau of Statistics.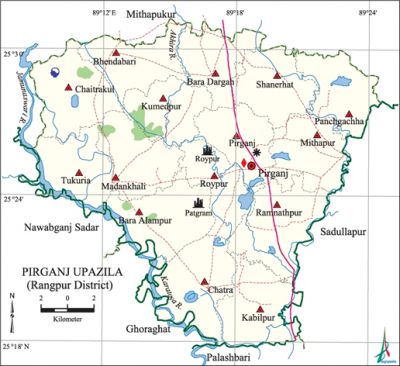 Archaeological heritage and relics Remnants of the palace of Raja Nilambar at Patgram, Tomb of Shah Ismail Ghazi, seven fort at Satgara (fort of Birat Raja, cattle house of Birat Raja, fort of Kuru Pandava, palace of Nora Raja, etc.), house and tomb of Poet Hayat Mahmud (medieval period) at village Jhar Bishla, Khalashpur Hat Jami Mosque, three domed Mosque at Dariapur, Hatibanda Mosque, Zamindar Bari and Mandir at Roypur, Khalisha Church.
Historical events On 22 February 1952, hartal was observed demanding Bangla as the state language. On the same day, a meeting was organized by the students and general public and declared to continue the language movement until the demand is fulfilled. In the beginning of the war of liberation the general public destroyed the Angrar Bridge on the Dhaka-Rangpur Road to obstruct the movement of the Pak army. In retaliation, the Pak army conducted torture, plundering and set many houses on fire at Jelepara, Wazirpur and at Madarganj Hat. From November the freedom fighters started launching guerrilla operation in the upazila. Besides, encounters between the freedom fighters and the Pak army were held in different areas from Laldighi to Bara Dargah.
Marks of the War of Liberation Mass grave 2 (Angrar Bridge, Madarganj Hat).
Religious institutions Mosque 520, temple 130, tomb 8, church 6. Noted religious institutions: Khalashpur Hat Jami Mosque, Hatibandha Mosque, Roypur Zamindar Bari Mandir.
Literacy rate and educational institutions Average literacy 39.07%; male 43.37%, female 34.64%. Noted educational institutions: Kadirabad High School (1916), Roypur High School (1931), Madankhali Primary School (1910), Chawk Karim Primary School (1926).
Newspapers and periodicals Weekly: Bajrakantha.
Cultural organisations Library 1, club 70, theatre group 2, branch office of Biswa Sahitya Kendra 1, cinema hall 3.
Main sources of income Agriculture 74.87%, non-agricultural labourer 2.7%, industry 0.57%, commerce 9.17%, transport and communication 3.62%, service 3.65%, construction 0.76%, religious service 0.16%, rent and remittance 0.8% and others 3.7%.
Ownership of agricultural land Landowner 57.94%, landless 42.06%; agricultural landowner: urban 55.85% and rural 58.01%.
Main crops Paddy, wheat, maize, sugarcane, mustard, potato, vegetables.
Extinct or nearly extinct crops Jute, arahar, aus paddy.
Main fruits Mango, jackfruit, blackberry, litchi, papaya, banana.
Fisheries, dairies and poultries Fishery 35, dairy 35, poultry 30.
Communication facilities Pucca road 140' km, mud road 440 km.
Extinct or nearly extinct traditional transport Palanquin, bullock cart.
Noted manufactories Rice mill, saw mill, oil mill, welding factory.
Cottage industries Blacksmith, potteries, husking mill, jute work, wood work.
Hats, bazars and fairs Hats and bazars are 27, fairs 10, most noted of which are Khalashpur Hat, Bhendabari Hat, Motherganj Hat, Chatra Hat, Shanerhat, Tukuria Hat, Colony Bazar Hat, Kadirabad Bazar, Balua Bazar, Pirganj Bazar, Baurani Mela at Zaffarpur, Baruni Mela at Bara Beel, Baruni Mela at Harin Singer Dighi, Bhendabari Mela, Phulbari Mela and Muharram Mela at Bara Dargah.
Main exports Paddy, wheat, potato, banana, sugarcane molasses, vegetables.
Access to electricity All the unions of the upazila are under rural electrification net-work. However 13.15% (urban 48.39% and rural 12.09%) of the dwelling households have access to electricity.
Natural resources Khalishpur coal mine at Magura have been found in this upazila.
Sources of drinking water Tube-well 94.08%, tap 0.16%, pond 0.21% and others 5.55%.
Sanitation 10.3% (rural 9.5% and urban 37.12%) of dwelling households of the upazila use sanitary latrines and 27.87% (rural 27.93% and urban 25.93%) of dwelling households use non-sanitary latrines; 61.83% of households do not have latrine facilities.
Health centres Upazila health centre 1, family planning centre 12, union health centre 15, charitable hospital 7.
NGO activities Operationally important NGOs are brac, asa, HEED Bangladesh. [Abu Md. Iqbal Rumi Shah]
References Bangladesh Population Census 2001, Bangladesh Bureau of Statistics; Cultural survey report of Pirganj Upazila 2007.