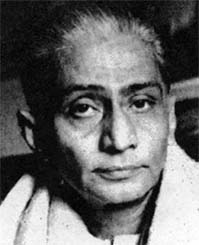 De, Bishnu (1909-1982) poet, prose writer, cinema critic and art connoisseur, was born on 18 July 1909. His father was Abinash Chandra De, an attorney. Bishnu De studied at Mitra Institute and Sanskrit Collegiate School in Kolkata. After matriculating in 1927, he went on to do his IA from Bangabashi College.
He completed his BA (Hons) in English from St Paul's College and MA in English from Calcutta University. In 1935, he joined Ripon College, Kolkata. He subsequently taught at presidency college (1944-1947), Maulana Azad College (1947-1969) and Krishnanagar College. Bishnu De was one of the pioneers of the new movement called Kallol era after the name of the epoch-making paper which began its publication from 1923. In 1930 when the publication of Kallol stopped, he joined sudhindranath dutta's Parichay and continued working as one of its editors till 1947. In 1948, with the help of Chanchal Kumar Chattopadhyay, he published S ahitya Patra. He also edited a magazine named Nirukta. 
Bishnu De contributed stories and poems to different magazines in Kolkata. He also wrote on art, music and culture. A number of his books on prose and poetry have been published, among them included Urvashi O Artemis (1933), Chorabali (1937), Sat Bhai Champa (1944), Ruchi O Pragati (1946), Sahityer Bhabisyat (1952), Nam Rekhechhi Komal Gandhar (1953), Tumi Sudhu Panchishe Baishakh (1958), Rabindranath O Shilpa-Sahitye Adhunikatar Samasya (1966), Michael, Rabindranath O Anyanya Yijnasa (1967), In the Sun and the Rain (1972), Uttare Thako Mauna (1977), Sekal Theke Ekal (1980), Amar Hridaye Bancho (1981), etc. Bishnu De donated the royalty he received for his collection of essays, In the Sun and the Rain, to the Communist Party. He was a prolific poet, publishing ten volumes of poetry. He also edited a collection of poems, E Kaler Kavita (Poems of This Era), and published seven books of translations. He wrote an autobiography: Chhadano Ei Jiban (This Scattered Life).
Bishnu De was one of the five post-Rabindranath poets of the thirties who ushered in new trends in Bangla poetry. He was inspired by Marxist philosophy and by the ideas and style of TS Eliot. Numerous references to the past and to western art and literature make his poetry somewhat obscure.
Bishnu De's friendship with the artist jamini roy led to his writing several books on art: Art of Jamini Roy (1988), The Paintings of Rabindranath Tagore (1958), India and Modern Art (1959), etc. He was also associated with Calcutta Group Centre, Soviet Friendship Association, Pragati Lekhak Shilpi Sangha, Indian People's Theatre Association (IPTA), etc.
For his contribution to literature, Bishnu De was awarded the Sahitya Akademi Award (1966), the Nehru Smriti Award (1967), and the Rastriya Jnanpith Award (1971). He also got the Soviet Land Award for Rushti Pavchashati. Bishnu De died on 3 December in 1982 in Kolkata. [Bimal Guha]