Roy, Jamini (1887-1973) One of the most famous modern painters of late-nineteenth and mid-twentieth century. Jamini Roy was born in a middle-class family at Beliator village in Bankura district of West Bengal. His father Ramataran Roy was an idealistic person and an amateur artist who, after resignation from government service, spent the rest of his life in his village amidst the potters. This environment accrued to Jamini Roy's artistic inclinations during his adolescence. From 1906 to 1914 he studied in European Academic Style at Calcutta Government Art School. There he learnt western art from the Italian artist-teacher Gilerdy and the oriental art techniques from its Principal Percy Brown.
At the start of his career, Jamini Roy adopted western style of painting and acquired much skill. During this period he became a professional painter and did experimental works in the manner of western Post-Impressionistic artists like Cezanne, Van Gogh and Gauguin. But side by side, for his great respect towards abanindranath tagore and his earnestness for Neo-Bengal school of painting, Jamini Roy, through his oil paintings, gave expression to the scenes of every-day life of the people of eternal rural Bengal. In both his oriental and occidental style of works his compositions reflect flat treatment of colour, bold lines and candour of folk art.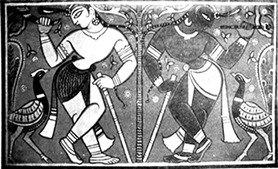 During the mature phase of his artistic endeavors Jamini Roy abandoned the formal elements of European Academic Style and devoted himself in creating pictures from simple indigenous forms but rendered in a modern setting and style. For this he adopted forms of folk dolls, child art and 'patas' of rural Bengal. For his paintings, Jamini Roy selected themes from joys and sorrows of everyday life of rural Bengal, religious theme like-Ramayana, sri chaitanya, Radha-Krishna and Jesus Christ, but he depicted them without narratives. Besides, he painted scenes form the lives of the aboriginal Santals, as for instance 'Santals engaged in drum-beating' 'Santal Mother and Child' 'Dancing Santals' etc. He rendered them symbolically through colours and hilarious rhythmic lives. The symphony of colourful palette and rhythmic lives created a new language of painting.
Like the master-artist Picasso, Jamini Roy's artistic career may be divided into different phases. In the primary stage he worked in European Post-Impressionistic style; in the next phase his works reflect the form of folk-dolls of the potters; in another phase he embraced the pata-painter's plasticity of lives. While creating these forms he deliberately avoided three-dimensionality and rendered in flat colour unhesitatingly the forms of 'Mother and Child' 'Radha-Krishna' 'Jesus Christ' without their thematic context.
In the long fifty years of his career as an artist Jamini Roy earned fame by evolving his own language of painting which he termed as 'Flat Technique'. But due to the popularity of Bengal school of painting his contemporary artists hardly accepted his new technique and style.
The exposition of Jamini Roy's works were first held in British India Street (Calcutta) in 1938. Critical appreciation of his works were published in several issues of 'Parichaya', a quarterly Journal of Calcutta, which made his paintings known to the public.
During the Second World War when American Army and officers bought exquisite paintings of Jamini Roy in higher price, his paintings became very popular among the connoisseurs and middle class people. Like the rural folk-painters and potters of Bengal, Jamini Roy used cheap indigenous pigments for his art to make them within the reach of the affluent as well as the poor. Like the pata-painters of Bengal he proposed his own paintings from indigenous materials like lampblack, chawk-powder, leaves and creepers. Even today, modern paintings of Jamini Roy, executed in the ideal of folk-pata paintings and dolls, attract the connoisseur's eyes as well as the teeming multitude. [Najma Khan Majlis]