Dharmapasha Upazila (sunamganj district) area 496.03 sq km, located in between 24°47' and 25°12' north latitudes and in between 90°56' and 91°11' east longitudes. It is bounded by Meghalaya State (India) on the north, mohanganj and barhatta upazilas on the south, tahirpur and jamalganj upazilas on the east, kalmakanda and Barhatta upazilas on the west.
Population Total 182969; male 95009, female 87960; Muslim 148814, Hindu 33102, Buddhist 921, Christian 7 and others 125.
Water bodies Main rivers: surma and kangsa; tanguar haor, Sialdigha Beel, Pakertala Beel, Firagang Beel, Dhoroni Beel, Joldhara beel, Dhankuniya Beel, Sardha Beel are notable.
Administration Dharmapasha Thana was formed in 1942 and it was turned into an' upazila in 1983.
Upazila
Municipality
Union
Mouza
Village
Population
Density (per sq km)
Literacy rate (%)
Urban
Rural
Urban
Rural

-

10

182

313

9840

173129

384

49.9

25.0
Upazila Town

Area (sq km)

Mouza

Mahalla

Population

Density
(per sq km)

11.75

2

9840

837

49.93
Union
Name of union and GO code
Area (acre)
Population
Literacy rate (%)
Male
Female

Uttar Bangshikunda 90

8483

9054

8495

19.89

Uttar Sukhair Rajapur 85

7564

7602

6910

21.04

Chamardani 23

16343

9603

9082

28.43

Joysree 47

14224

8921

8272

25.52

Dakshin Bongshikunda 35

18433

11516

10451

21.57

Dakshin Sukhair Rajapur 21

12897

4257

3762

16.74

Dharmapasha 38

8818

12309

11702

24.39

Paikurati 66

15185

11711

10624

24.23

Madhyanagar 57

11017

9732

8791

46.78

Selborash 76

8249

10304

9871

29.03
Source  Bangladesh Population Census 2001, Bangladesh Bureau of Statistics.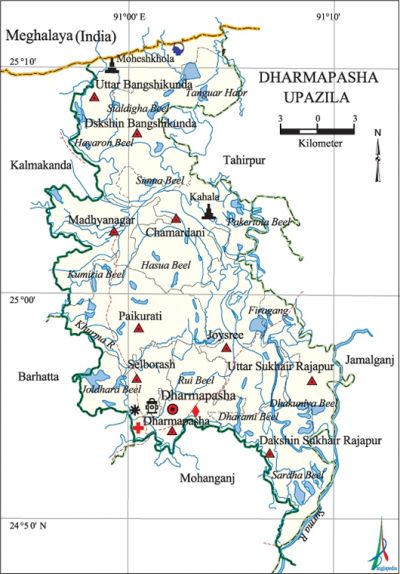 Archaeological heritage and relics Sukhair Zamindar Bari and Kali Mandir, Rajapur Zamindar Bari, Selborash Jami Mosque, Zamindar bari, Moheshkhola Kali Mandir.
Historical events The valiant Khasias of Assam brutally killed many people of Selborash, Ramdigha and Bangshikunda parganas of the upazila in 1787. Nankar Rebellion was held at Sukhair of the upazila during 1922-1923.
Religious institutions Mosque 192, temple 17, Church 3, sacred place 1.
Literacy rate and educational institutions Average literacy 26.4%; male 29.6%, female 23%. Noted educational institutions: Badshaganj Degree College (1994), Madhyanagar BP High School (1952), Badshaganj Pablic High School (1950), Janata High School (1931).
Newspapers and periodicals Literay periodicals: Sanko, Praner Hisab (Defunct).
Cultural organisations Club 300, library 2,' cinema hall 1, women's organisation 100, playground 15.
Tourist spots Tanguar Haor and Tekerhat Limestone Hill.
Main sources of income Agriculture 79.10%,' non-agricultural labourer 4.25%, industry 0.28%, commerce 7.36%, transport and communication 0.77%, service 2.07%, construction 0.29%, religious service 0.18%, rent and remittance 0.14% and others 5.56%.
Ownership of agricultural land Landowner 58.13%, landless 41.87%; agricultural landowner: urban 47.19% and rural 58.75%.
Main crops Paddy, potato, onion, garlic, mustard seed, vegetables.
Extinct or nearly extinct crops Sesame, sweet potato, gram, kaun, Khesari.
Main fruits Mango, blackberry, jackfruit, litchi, banana, papaya, custard-apple, watermelon.
Fisheries, dairies and poultries This upazila has a number of fisheries, dairies and poultries.
Communication facilities Roads: pucca 18 km, semi-pucca 10 km, mud road 358.50 km.
Extinct or nearly extinct traditional transport Palanquin, bullock cart.
Noted manufactories Flour mill, saw mill, ice factory, welding factory.
Cottage industries Bamboo and wood work, tailoring.
Hats, bazars and fairs Hats and bazars are 14, fairs 10, most noted of which are Dharmapasha, Madhyanagar, Badshaganj, Gachtala, Saidpur, Chamardani, Bangshikunda, Moheshkhola, Golgaon, Sukhair, Natun Bazar, Golakpur, Joysree Bazar;' Kali Puja Mela at Moheshkhola and Kahala villages, Shiva Mela at Ramdigha and Galaikhali.
Main exports Onion, garlic, banana, potato, paddy,' dried fish, mustard seed, wood, vegetables.
Access to electricity All the unions of the upazila are under rural electrification net-work. However 3.99% of the dwelling households have access to electricity.
Sources of drinking water Tube-well 83.54%, tap 1.02%, pond 5.25% and others 10.19%. The presence of intolerable level of arsenic has been detected in shallow tube-well water of the upazila.
Sanitation 8.56% (rural 6.98% and urban 36.87%) of dwelling households of the upazila use sanitary latrines and 76.35% (rural 77.56% and urban 54.60%) of dwelling households use non-sanitary latrines; 15.09% of households do not have latrine facilities.
Health centres Upazila health centre 1, rural health centre 2, union health centre and family welfare centre 5.
Natural disasters The devastating earth quake of 1897 caused huge loss of life and heavy damages to properties of the upazila. In 1967 about 50 persons died of small pox in one night at village Bishara. Besides, the floods of 1974 and 1988 and the tsunami of 2004 caused heavy damages to settlements, livestock and crops of the upazila.
NGO activities asa, brac, proshika, Shova. [Nixon Talukdar]
References Bangladesh Population Census 2001, Bangladesh Bureau of Statistics; Cultural survey report of Dharmapasha Upazila 2007.