Dighinala Upazila (khagrachhari district) area 694.12 sq km, located in between 23°04' and 23°44' north latitudes and in between 91°56' and 92°11' east longitudes. It is bounded by tripura state of India on the north, langadu upazila on the south, baghaichhari upazila on the east, panchhari and khagrachhari sadar upazilas and Tripura state on the west. Golamoon, Karmi Mura, Lutiban, Kuradia hills are notable.
Population Total 92743; male 48597, female 44146; Muslim 29423, Hindu 8509, Buddhist 1004, Christian 53777 and others 30. Indigenous communities such as chakma, santal, tripura, marma belong to this upazila.
Water bodies Main river: Maini.
Administration Dighinala Thana was formed in 1916 and it was turned into an upazila in 1984.
Upazila
Municipality
Union
Mouza
Village
Population
Density (per sq km)
Literacy rate (%)
Urban
Rural
Urban
Rural

-

5

22

235

13117

79626

134

62.1

45.0
Upazila Town

Area
(sq km)

Mouza

Population

Density
(per sq km

Literacy rate
(%)

10.36

1

13117

1266

62.07
Union
Name of union and GO code
Area (acre)
Population
Literacy rate (%)
Male
Female

Kabakhali 63

11520




7384




6618




47.83




Dighinala 47




10880




6838




6334




47.26




Babuchhara 15




53120




7098




6199




39.48




Boalkhali 31




7680




9401




8090




57.11




Merung 79




56320




17876




16905




45.53
Source Bangladesh Population Census 2001,Bangladesh Bureau of Statistics.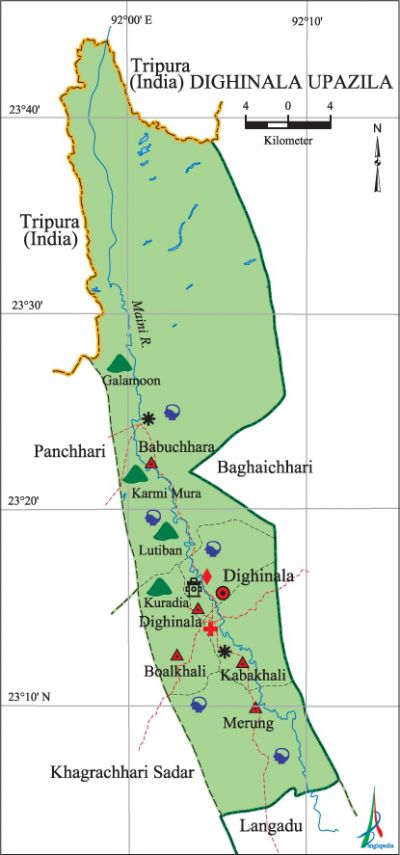 Literacy rate and educational institutions Average literacy 47.5%; male 56.1%, female 38%. Educational institutions: Dighinala Government College, Dighinala Government High School, Dighinala Model Girls' School, Hashinpur High School, Anath Ashram Abashik High School, Babuchhara High School, Udal Bagan High School, Rasik Nagar Dakhil Madrasa.
Main sources of income Agriculture 65.53%, non-agricultural labourer 8.51%, commerce 9.70%, service 5.01%, construction 0.42%, religious service 0.20%, rent and remittance 0.10% and others 10.53%.
Ownership of agricultural land Landowner 46.96%, landless 53.04%; agricultural landowner: urban 25.85% and rural 50.57%.
Main crops Paddy, ginger, garlic, mustard, nut, sesame, potato, vegetables.
Main fruits Banana, jackfruit.
Fisheries, dairies and poultries Poultry 6.
Communication facilities Pucca road 91 km, semi-pucca road 34 km, mud road 280 km.
Extinct or nearly extinct traditional transport Bullock cart.
Noted manufactories Rice mill, saw mill.
Cottage industries Goldsmith, weaving, wood work.
Hats, bazars and fairs Dighinala, Babuchhara and Kalyanpur bazars are notable.
Access to electricity All the unions of the upazila are under rural electrification net-work. However 12.01% of the dwelling households have access to electricity.
Sources of drinking water Tube-well 53.45%, tap 0.34%, pond 1.93% and others 44.28%.
Sanitation 14.38% (rural 9.32% and urban 43.98%) of dwelling households of the upazila use sanitary latrines and 73.71% (rural 77.87% and urban 49.35%) of dwelling households use non-sanitary latrines; 11.91% of households do not have latrine facilities.
Health centres Upazila health complex 1. [Atikur Rahman]
References Bangladesh Population Census 2001, Bangladesh Bureau of Statistics; Cultural survey report of Dighinala Upazila 2007.