Fulbaria Upazila (mymensingh district) area 401.16 sq km, located in between 24°23' and 24°44' north latitudes and in between 90°08' and 90°28' east longitudes. It is bounded by muktagachha upazila on the north, bhaluka upazila on the south, trishal and mymensingh sadar upazilas on the east, ghatail, madhupur and Muktagachha upazilas on the west.
Population Total 396019; male 201151, female 194868; Muslim 384956, Hindu 10094, Buddhist 862, Christian 9 and others 98.
Water bodies Khiru, Nageshwari, banar, Bajna, Sirkhali, Bajua, Miabua, Katamadari, Deorai rivers; Ratai, Katar, Sangayet, Shreefalata, Kalai, Radha, Bara beels are notable.
Administration Fulbaria Thana was formed in 1867 and it was turned into an upazila in 1983.
Upazila
Municipality
Union
Mouza
Village
Population
Density (per sq km)
Literacy rate (%)
Urban
Rural
Urban
Rural

-

7

80

82

6233

131562

450

36.2

27.3
Upazila Town

Area (sq km)




Mouza




Population




Density
(per sq km)




Literacy rate (%)




11.08




1




6233




563




36.24
Union
Name of union and GO code
Area (acre)
Population
Literacy rate (%)
Male
Female

Uria 83




5835




7117




7078




22.91




Udakhali 71




4973




12019




11245




37.85




Erendabari 11




21952




12043




12115




36.01




Kanchipara 59




6610




12815




12162




35.74




Gazaria 47




7111




7644




8015




29.53




Fazlupur 23




17021




8838




8561




18.71




Fulchhari 35




12244




9340




8803




14.50
Source  Bangladesh Population Census 2001, Bangladesh Bureau of Statistics.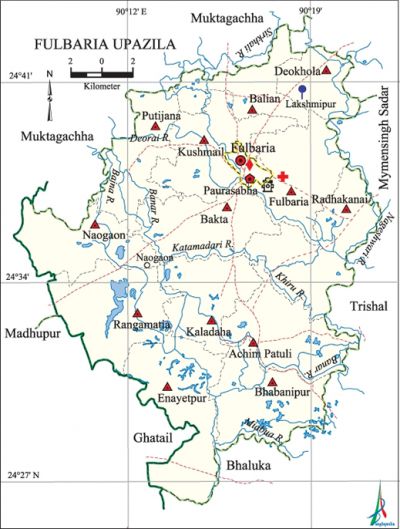 Archaeological heritage and relics Anai Bazar Dighi, 'Bibir Ghar' at Putijana Union.
History of the War of Liberation After 25 March 1971, a training camp for the freedom fighters was established at Kandalia-Langal Shimul Bazar. A fierce battle was fought between the freedom fighters and the Pak army at Lakshmipur in which about 70 persons on both sides were killed. Fulbaria was liberated on 8 December.
Marks of the War of Liberation Mass grave 1, mass killing site 2.
Religious institutions Mosque 500, temple 19, church 1, sacred place 1.
Literacy rate and educational institutions Average literacy 36.6%; male 38.8%, female 34.3%. Educational institutions: college 8, secondary school 66, primary school 166, madrasa 50. Noted educational institutions: Keshoreganj College (1998), Fulbaria Degree College, Fulbaria Pilot High School, Achim High School, Kandania High School, Palashihata High School, Hare Krishna High School, Muhammad Nagar High School, Radhakanai High School, Fulbaria Government Primary School, Achim Government Primary School, Kandania Government Primary School, Lakshmipur Government Primary School.
Cultural organisations Library 1, club 13, jatra group 1, women organisation 5, cinema hall 2.
Special attractions The vast forest of Rangamatia Union on the south west region of Fulbaria, Bara Beel, Anai Bazar Dighi, Rubber plantation and vast forest at Santoshpur of Naogaon Union.
Main sources of income Agriculture 68.22%, non-agricultural labourer 4.04%, industry 0.55%, commerce 9.13%, transport and communication 3.61%, service 4%, construction 0.84%, religious service 0.2%, rent and remittance 0.12% and others 9.29%.
Ownership of agricultural land Landowner 66.32%, landless 33.68%; agricultural landowner: urban 58.92% and rural 67.69%.
Main crops 'Paddy, jute, wheat, cotton, turmeric, sugarcane, potato, kalai, mustard.
Extinct or nearly extinct crops Linseed, arahar, sesame.
Main fruits Litchi, banana, pineapple, jackfruit.
Fisheries, dairies and poultries Fishery 73, poultry 25, hatchery 8.
Communication facilities Pucca road 93 km, semi-pucca road 38 km, mud road 552 km.
Extinct or nearly extinct traditional transport Palanquin, bullock cart.
Noted manufactories Flour mill 3, ice factory 4, printing press 2, biscuit factory 6, welding factory 40.
Cottage industries Goldsmith 45, blacksmith 85, potteries 204, weaving 4, silk industry 3, wood work 178, bamboo work 165, tailoring 218.
Hats, bazars and fairs Hats and bazars are 35, fairs 3, most noted of which are Dattakhola, Dashmail, Achimpur, Keshoreganj, Kaladaha, Radhanagar' and Naogaon hats; Mohispur and Uttarbahini melas.
Main exports Paddy, turmeric, sugarcane molasses, jackfruit, pineapple.
Access to electricity All the wards and unions of the upazila are under rural electrification net-work. However 14.97% of the dwelling households have access to electricity.
Sources of drinking water Tube-well 87.71%, tap 0.26%, pond 0.73% and others 11.3%.
Sanitation 15.13% (rural 15.48% and urban 13.12%) of dwelling households of the upazila use sanitary latrines and 39.7% (rural 38.47% and urban 46.61%) of dwelling households use non-sanitary latrines; 45.18% of households do not have latrine facilities.
Health centres Upazila health complex 1, hospital 1, satellite clinic 4, union health centre 9, community clinic 18, clinic 104, family welfare centre 13, union hospital 3.
Natural disasters Seven persons died and a number of people were wounded by a cyclone of 27 April 1972 at Bakta, Achim Patuli, Naogaon and Putijana unions of the upazila.
NGO activities brac. [Azharul Islam]
References Bangladesh Population Census 2001, Bangladesh Bureau of Statistics; Cultural survey report of Fulbaria Upazila 2007.