Mymensingh District (dhaka division) area 4363.48 sq km, located in between 24°15' and 25°12' north latitudes and in between 90°04' and 90°49' east longitudes. It is bounded by Garo Hills and Meghalaya state of India on the north, gazipur district on the south, netrokona and kishoreganj districts on the east, sherpur, jamalpur and tangail districts on the west.
Population Total 4489726; male 2297302, female 2192424; Muslim 4289789, Hindu 168135, Buddhist 27999, Christian 330 and others 3473. Indigenous communities such as garo, Koch, Dalu, Barman and hajong belong to this district.
Water bodies Main rivers: old brahmaputra, Bhogai, Bajua, kangsa.
Administration Mymensingh district was formed in 1787. The previous name of the Mymenshing Town was Nasirabad. Of the 17 districts of Dhaka Division, Mymenshingh District is the biggest.
District
Area (sq km)
Upazila
Municipality
Union
Mouza
Village
Population
Density (per sq km)
Literacy rate (%)
Urban
Rural

4363.48

12

8

146

2201

2700

660331

3829395

1029

39.1
Others Information of District

Name of Upazila

Area
(sq km)

Municipality

Union

Mouza

Village

Population

Density
(per sq km)

Literacy rate
(%)

Ishwarganj

286.19

1

11

293

291

338080

1181

35.2

Gaffargaon

401.16

1

15

202

212

413488

1031

46.4

Gauripur

274.07

1

10

145

290

282940

1032

36.9

Trishal

338.98

1

12

91

159

372498

1099

40.2

Dhobaura

251.05

-

7

96

162

172152

686

27.9

Nandail

326.13

1

12

163

265

370850

1137

36.0

Phulpur

580.21

-

20

377

409

524720

904

33.1

Fulbaria

402.41

-

13

104

137

396019

984

36.6

Bhaluka

444.05

1

11

87

110

308758

695

41.1

Mymensingh Sadar

388.45

1

13

136

174

674452

1736

49.9

Muktagachha

314.71

1

10

261

283

366397

1164

35.3

Haluaghat

356.07

-

12

146

208

269372

757

34.8
Source  Bangladesh Population Census 2001, Bangladesh Bureau of Statistics.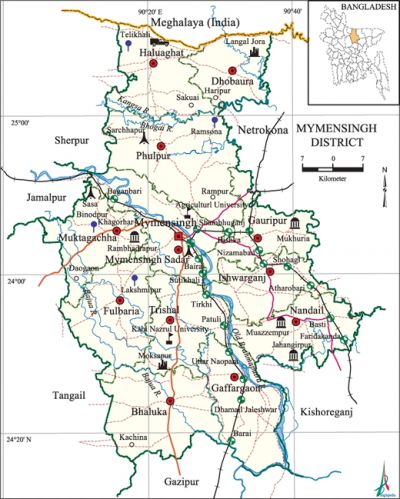 History of the War of Liberation After 25 March 1971, a training camp for the freedom fighters was established at Kandania-Langal Shimul Bazar of Bhabanipur union under Fulbaria upazila. On 27 March an encounter was held between the Bangali and non-Bangali members of the Khagdahar EPR Camp of Mymenshingh sadar upazila. On 17 April, Machine Gun firing from two Pak fighter planes on Gaffargaon upazila caused death of 17 innocent persons while more than one hundred persons were wounded. On 21 April the Pak army brutally killed 18 villagers of Rajgati, Shuvakhila and Kaliganj of Nandail upazila and also set a few hundred houses of these areas on fire. The Pak army took control over Mymensingh town after 23 April. The same day, the freedom fighters resisted the Pak army at Jalchhatra on their way to Muktagachha. During the war of liberation the freedom fighters, under Commander Refazuddin launched attacks on the Pak army at Bat-tali, Bhiti Bari and Muktagachha Police Station. A battle was fought between the freedom fighters and the Pak army at Katakhali Bazar of Trishal upazila on 7 June in which about 50 Pak soldiers were killed. On 19 July 1971 a day long encounter was held between the freedom fighters and the Pak army at village Jigatala of Dhobaura upazila in which 11 persons including two freedom fighters were killed. A direct encounter was held between the freedom fighters and the Pak army on 6 August 1971 at the Bandarkata camp of Haluaghat upazila in which freedom fighters Abdul Aziz and Parimal were killed. In the month of August' an encounter was held between the freedom fighters and the Pak army at Porabari Bazar in Mathbari union under Trishal upazila in which two freedom fighters were killed. Freedom fighter Abdur Rahman was killed in an encounter with the Pak army at Bhangnamari Char of this upazila. In the midnight of 3 October 1971, the Pakistan army suddenly attacked the Muktibahini camp at Guatala Bazar of Dhobaura upazila and killed four freedom fighters. Next day the Pakistan army raided Guatala bazar and Taraikandi ferry ghat and killed120 persons. On 16 October, six freedom fighters were killed in an encounter with the Pak army in Ishwarganj upazila. On 3 November the freedom fighters of Haluaghat launched simultaneous attacks on the strong Pak army base at Telikhali from three sides, Karaitala, Baghaitala and Ramchandrakura resulting in the death of 121 Pak soldiers and 26 freedom fighters. On 17 November, an encounter between the Pak army and the freedom fighters was held in Nandail upazila in which a number of people including freedom fighters Elias Uddin Bhuiya and Shamsul Haque were killed. This day is being observed as the 'Nandail Shaheed Day'. Afsar Uddin Ahmed, sub sector commander of sector 11, organized the locally trained freedom fighters and challenged the Pak army. A fierce battle was held between the freedom fighters and the Pak army at Laksmipur under Fulbaria upazila in which about 70 persons on both sides were killed. The people of village Digharkanda resisted the Pak army with indigenous weapons such as Sarki, Ballam, Da and Lathi when the Pak army raided the village at night; in this encounter a Pak Major was killed. In retaliation, the Pak army launched an attack on the village on the day following in which a number of villagers were killed. The Pak army abducted 9 persons including Satyendranath Datta, Head Master of Payari High School of Phulpur upazila, and carriedthem to Sarchapur mass killing site. However, Satyendranath Datta could escape immediately before firing by diving into water. Besides, a frontal battle was fought between the freedom fighters and the Pak army at village Ramsona under Sandhara union of this upazila in which 33 freedom fighters were killed. Eleven freedom fighters were killed in an encounter with the Pak army at Rayergram of Trishal upazila. Besides, the Pak army established military camps in different places of the district and conducted mass killing, torture and plundering; they also set many houses of the district on fire.'
Marks of the War of Liberation Mass killing site 7 (Dakbungalow Char of Mymensingh sadar, Chawkbazar, Jelkhanar Char, river bank of Shambhuganj, Boror Char, Bangladesh Agricultural University compound, Rasulpur of Muktagachha).
Literacy rate and educational institutions Average literacy 39.1%; male 41.7%, female 36.3%. Educational institutions: university 2, medical college 3, college 63, cadet college 1, teachers training college 4, vocational training institute 2, polytechnic institute 1, secondary school 506, primary school 2043, art school 1, community school 6, satellite school 24, NGO operated school 1065, nursery school 59, deaf and dump school 1, music school 3, madrasa 1212. Noted educational institutions: bangladesh agricultural university (1960), Ananda Mohan Government College (1908), Mymensingh Medical College (1968), Mymensingh Girls' Cadet College (1964), Muminunnesa Government Girls' College (1959), Mukul Niketan High School (1959), Vidyamoyee Government Girls' High School (1873), Phulpur Pilot High School (1882), Ramgopalpur PJK High School (1890), Muktagachha Ram Kishore High School (1894), Kandipara Askar Ali High School (1906), Mahakali Girls' School and College (1907), Birai Taltala Girls' High School (1902), Edward Institution (1903), Radha Sundari Girls' High School (1927), Bangladesh Railway Government High School (1925), Saint Mary's Girls' Junior High School (1929), Mymensingh Zila School (1853), City Collegiate School (1883), Mrityunjoy School (1901), Nasirabad Collegiate School (1911), Nazrul Academy (1913), Katlasen Kaderia Kamil Madrasa (1890), Chargoadanga Senior Fazil Madrasa (1915), Pachbag Islamia Fazil Madrasa (1921), Sherpur Islamia Fazil Madrasa (1927).
Main sources of income Agriculture 64.14%, non-agricultural labourer 3.65%, industry 0.82%, commerce 11.40%, transport and communication 3.53%, service 6.21%, construction 1.33%, religious service 0.21%, rent and remittance 0.46% and others 8.25%.
Newspapers and periodicals Daily: Jahan, Banglar Jamin, Insaf, Ajker Smriti, Shipa, Swadesh Sangbad; weekly: Mymensingh Barta, Ajker Muktagachha; defunct: Kumar, Bigyapani (1866), Bangalee (1874), Surid (1875), Pramadi (1875), Bharat Mihir (1875), Sanjibani (1878), Basana (1899), Abriti (1901), Swadesh Sampad (1905), Shikkha Saurav (1912), Hafez Shakti (1924), Ganavijan (1938), weeekly Charumihir (1939), Uttar Akash (1959), Aunirban (1963), Jagrata Bangla (1971).
Folk culture Notable folk culture of the district include maimansingha gitika, rhymes, Boul song, Palageet, proverbs of the Garo community, sloka (hiluk) of the Hajong community, riddle (thachi-katha),
Important installations Museum, Mymensingh Town Hall, bangladesh institute of nuclear agriculture and bangladesh fisheries research institute (mymensingh sadar Upazila). [Samar Pal]
See also The upazilas under this district.
References Bangladesh Population Census 2001, Bangladesh Bureau of Statistics; Cultural survey report of Mymensingh District 2007; Cultural survey report of upazilas of Mymensingh District 2007.