Gandaria Thana (Dhaka metropolitan) area 1.83 sq km, located in between 23°41' and 23°42' north latitudes and in between 90°25' and 90°26' east longitudes. It is bounded by sutrapur thana on the north, keraniganj upazila and Shyampur thana on the south, jatrabari and shyampur thanas on the east, Sutrapur thana on the west.
Population Total 160541; male 92161, female 68380; Muslim 141451, Hindu 18403, Buddhist 619, Christian 38 and others 30.
Water bodies buriganga river.
Administration Gandaria Thana was formed on 4 February 2010 comprising parts of Sutrapur Thana.
Thana
Ward
Mahalla
Population
Density (per sq km)
Literacy rate (%)
Urban
Rural
Urban
Rural
4
25
160541
-
87728
70.14
-
Ward
Ward no.
Area (sq km)
Population
Literacy rate (%)
Male
Female
Ward no.76
0.53
23616
17930
72.04
Ward no.80
0.28
16355
11825
7056
Ward no.81
0.65
28941
20860
67.21
Ward no.82
.0.41
23249
17765
70.78
Source Bangladesh Population Census 2001, Bangladesh Bureau of Statistics.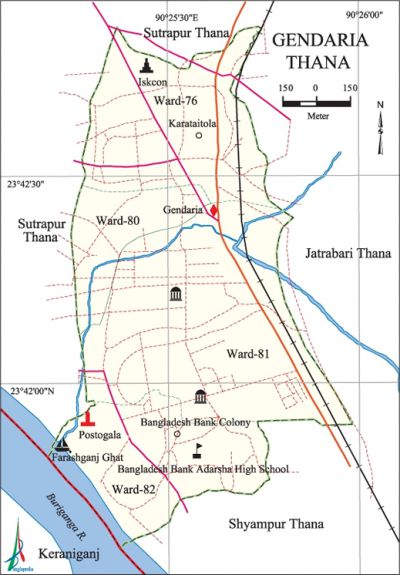 Noted religious institutions Kadam Rasul Jami Mosque, Nur Mosque, Murgitola Jami Mosque, Dhupkhola Jami Mosque, Shree Shree Lokonath Brahmachari Ashram and Shree Shree Shiva Mandir.
Literacy rate and educational institutions Average literacy 69.97%; male 72.82%, female 66.01%. Educational institutions: college 1, secondary school 21, primary school 15. Noted educational institutions: Bangladesh Bank Ideal High School, Sadrul Hoque Mohila College, Gandaria High School, Monija Rahman High School, Government Narinda High School.
Cultural organisations Club, community centre, playground, etc.
'Noted establishments Narcotics Chemical Laboratory, Power Sub Station.
'Main sounces of income Agriculture 0.68%, non-agricultural labourer 0.47%, industry 2.97%, commerce 39.12%, transport and communication 6.39%, construction 2.03%, religious service 0.16%, service 30.12%, rent and remittance 3.12% and others 14.94%.
Ownership of agricultural land Landowner 43.70%, landless 56.30%.
Extinct or nearly extinct crops Paddy, jute, sugarcane and pulses.
Main fruits Mango, guava.
Communication facilities Total road 32.02 km.
Extinct or nearly extinct traditional transport Palanquin, horse carriage and bullock cart.
Noted manufactories Garments industry, pharmaceutical industry (Sadhana and Sakti Ousadhalaya).
Cottage industries Goldsmith, blacksmith.
Noted bazars Dhupkhola Bazar.
Access to electricity All the wards of the thana are under electrification net-work. However, 98.99% of the dwelling households have access to electricity.
Sources of drinking water Tube-well 14.52%, tap 83.92%, pond 0.12% and others 1.44%.
Sanitation 96.23% of dwelling households of the thana use sanitary latrines and 3.70% of dwelling households use non-sanitary latrines; 0.07% of households do not have latrine facilities.
Health centres Urban Primary Health Care, Faysal Dental Clinic, Ibn Sina Diagnostic Lab Consultation Centre, Jahangirnagar Hospital.
NGO activities brac, Urban Development Committee. [Shamsun Nahar]
References Bangladesh Population Census 2001, Bangladesh Bureau of Statistics.